I wrote a separate post about my trip to New York (more generally).
Race details
The New York City Marathon was held on the 9th November 2017 in New York, New York.
It was my third marathon, and I finished it in 3:28:58.
More information about the race can be found here.
Travel and accommodation
I had organised an AirBnb in Brooklyn. I chose Brooklyn as a cost/location trade off noting that the race start line is on Staten Island and one has to get an early morning ferry to get there. I have been told that transport can be fairly awful and historically lots of people have missed their start times. I made sure to get up early and run at the appropriate points to avoid the huge queues for boats and buses. Even then I cut it pretty fine, and having to put so much effort into travelling before the race is less than ideal.
Pre-race nutrition
The week/day prior to the race I just ate whatever I wanted. I did not eat anything particularly bad, but having not trained properly, and having not been eating properly it seemed futile to all of a sudden change the week before the race.
The night before the race I did buy and cook an insanely large amount of pasta (carb loading), and on the morning of the race I had a large bowl of oatmeal.
Tactics
After the Berlin Marathon at the end of 2016 I had suffered a weird hip injury. I took some time off to let it recover but then got back into running. I went to Asia for a number of months at the start of 2017 and carried on training. RThe problem was that to avoid the heat you had to train in the early early morning which gradually just became annoying. It affected my day to day life and as such in February I stopped. I swam for a month, but then just stopped exercise due to a lack of motivation. I went to see a friend in South Korea in April and then I just completely fell off the rails eating all of the nice things.
Over the next few months I put on lots of weight (no regrets) and continued not to train. At the start of August I started to train again. I almost certainly did too much too fast, and it was insanely depressing as I obviously did not get anywhere near the level of fitness I had before.
I ended up with what i have self diagnosed with shin splints, so as the race came up it was a case of doing a long run (so I know that I can finish), and then resting.
I ran New York 10kg heavier than Berlin, and a lot less fit. Given this, and given my training I was expecting a 3:45 to be a good day. A few days before my ego got the better of me and the 'go big or go home' mentality hit, so I decided to target 3:30. The hope was that the crowds would make up for the difference.
Miles 0 - 2
Everyone said that the Verrazano Narrows Bridge was an insanely hard start because it was uphill. It wasn't hard, and the hill was basically unnoticeable. I (obviously) went out too quick, and I needed the toilet from the start.
Miles 2 - 13.1
My watch strap was broken so I was just holding the actually face unit in my hand. I was running 7:40 pace (too quick) but my efforts to slow down were not actually resulting in me slowing down.
Things fluctuated. I felt good at times, bad at others, but overall it was OK.
I was taking gels every 5 miles ish. I had 6, intending to take 4 during the race. I was also carrying water.
Miles 13.1 - 17
I had bought my own water with me. My thought process was that I was not going for an ultra competitive time and so weight would matter less. Water stations are usually annoying so I just carried my own.
It was useful because i could just run straight through the middle of water stations. Sadly however it is bemusing how stupid people are - grabbing some water and then stopping dead with 40,000 people behind them for example.
My point of reference was my first marathon (Manchester). At half way I felt better than I had at Manchester. My world was not ending so things were OK.
There were more bridges and whilst lots of people were stopping and walking, I was OK. I didn't feel good, but didn't feel bad enough to have to stop.
Miles 17 - 24
My lack of training showed its face. All of a sudden things were getting very hard. Up until this point it had been bad but OK. I had been embracing the crowd support and just getting on eith things. At this point however I realised that there was a long way to go and I really didn't feel good.
At one point we crossed the final bridge back into Manhattan (no idea which), and a lady was holding a sign stating 'This is the last Bridge'. I exclaimed 'You better not be f**king lying'. She laughed, but on reflection that was kinda rude :P Fortunately it was.
It was very much just a psychological exercise. Break the remainder into smaller chunks and get them done. Goad yourself with the unacceptability of stopping or failing etc.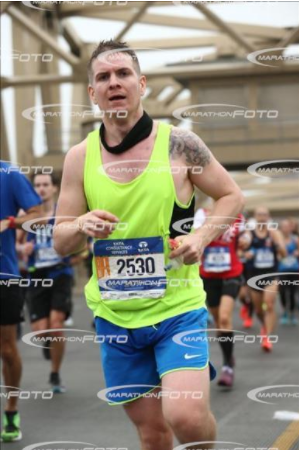 Miles 24 - 26.2
The final miles include a hill up into Central Park. It is not steep, but it is long. It requires some soul searching. At this point my running form was non-existant. I was just looking at the ground.
When we got into Central Park I new exactly what was left (having walked it a few days prior). All of a sudden it was much longer.
The finish line is not visible right until the end. Most of this was just a case of getting it done. Only 8 minutes to go etc.
Thoughts
I was super happy to hit my target. I thought 3:30 was ambitious with my training. On the flip side I was super annoyed to have regressed so much.
That said, I did not do the training so I can not complain. Running is hard. The more you train, the easier it is. Ifanything hopefully this will motivate me to get back in shape.
Next
My leg is still injured, and the pain did come back during and after the race. I'm currently not running. I've arbitrarily decided on 4 weeks on gym/swim to see if it recovers from rest.
Regardless I will not have enough time to train (properly) for Boston 2018 (which I am in), so I am intending to just build up again to Boston and aim for a 3:30 or less after which I will train properly for Chicago (which I have now decided to do). I am going to defer London until 2019 (I think).