"I don't want to change the past in my mind based on what happens tomorrow"
On October 9th 2022, I ran the Chicago Marathon. This was a Covid deferred entry (see Did Not Start. Chicago 2018.), and was my B race for the year (after the Comrades down run).
I ended running a 2:59:56. My watch said 2:59:59 :o
The plan
Post Comrades my original plan was to recover, do any runs I could do for the first week (I did a 20 miler with Alex the following Sunday), then try and do 2 more 40 mile weeks before a taper. It was going OK and then whilst doing a random, fairly fast 10 miler my right knee started complaining.

I stopped, but being a few miles away from home then attempted to jog/walk home. It somewhat eased off so I was somewhat hopeful it was just a small thing that would sort itself overnight.

I took the rest of the week off and then ran to (and completed parkrun) on the Saturday. Things were fine, but after the run I could feel the knee pain. In my mind I really wanted to do one more long run before Chicago so decided I'd do a 20 miler on the Sunday and then not do anything until race day. Admittedly somewhat reckless but I was attempting to appease my running mind.

Sunday morning came, I ran out the front door, it hurt immediately. I stopped (sometimes I am sensible), and went for a bike ride instead. This was more of a problem than I had anticipated.
After this I didn't do any more runs until I was in Chicago. I essentially took 2.5 weeks off. I had a massage from my physio about a week out, and at that point I had no issues walking, and no obvious pain - I was happy again.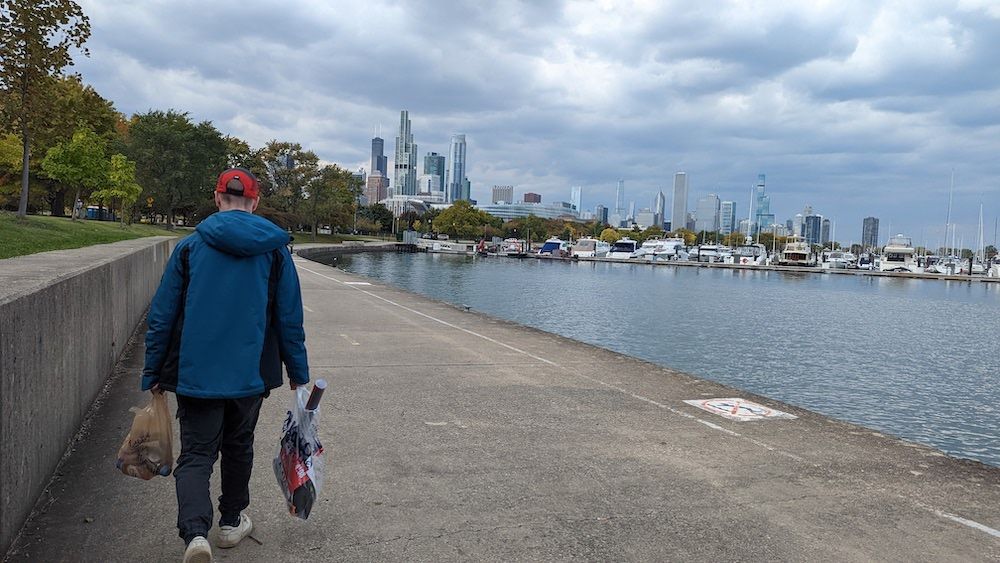 On the Thursday pre-race (in Chicago) I went out for a 3 mile shake out run with Alex. After a mile or so it started giving me random shooting pains that stopped me in my track. I was able to run again shortly after, and noted that running faster seemed to feel better, but this made me super anxious for the days that followed pre-race.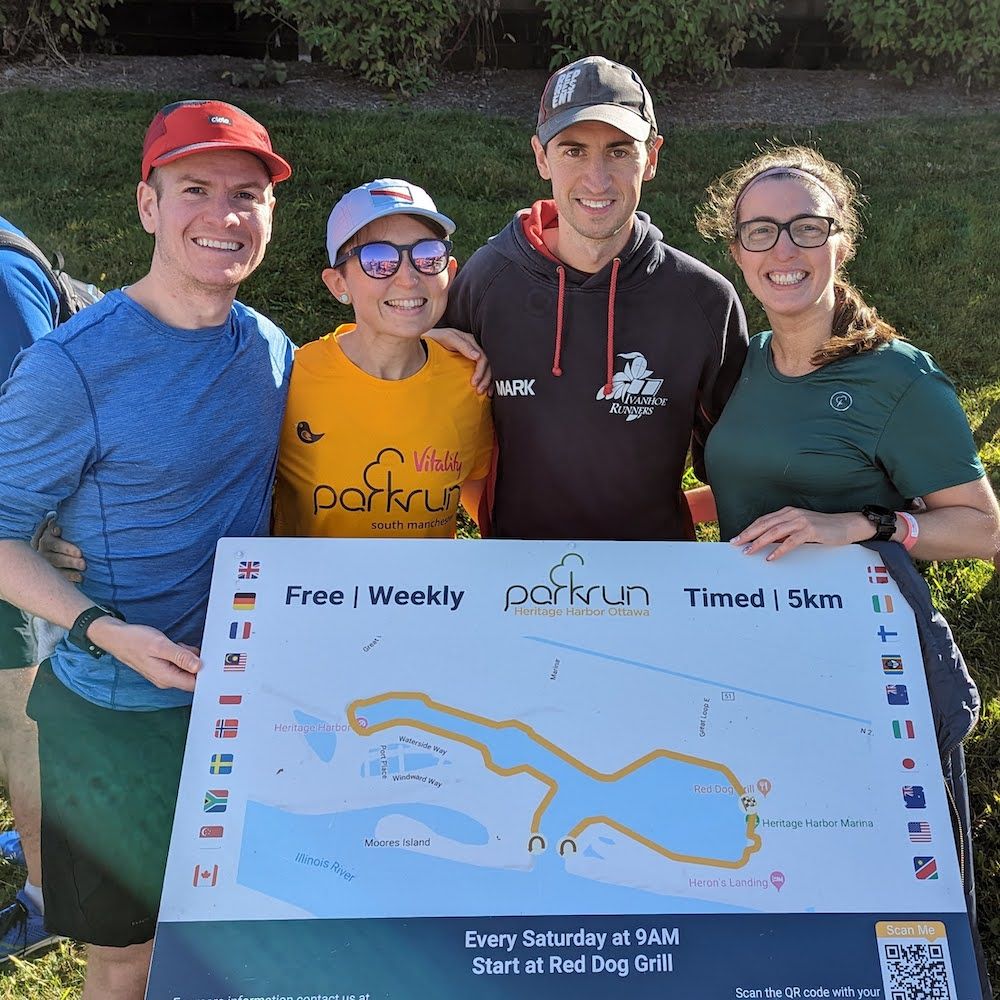 On the Friday we headed out to Heritage Harbor with some friends to do the parkrun on the Saturday. Given the above, this was obviously a stupid idea.. but we had already planned it all (and booked a hotel) and I figured that if I couldn't run 3 miles now there was no way I was running 26 on the Sunday. I ran relatively slowly and had similar issues to the Thursday run. It dawned on me that I'd essentially just have to see what happened on race day - it might ease off and be fine, it might stay the same and I might get round, or it might get progressively worse and I'll have to stop. I've never not complete a marathon so I absolutely under no circumstances wanted to not finish but it was kind of a 'I'm in Chicago, and I'm going to start. Lets see what happens' kind of situation. I also had my typical attitude that a plan B is a plan to fail. If I needed a plan B I would come up with it on the spot as/when needed.
My plan was to run a sub-3. Nothing more, nothing less. 6:53 minutes per mile for 26.2 miles. Originally post Comrades the plan was a sub-3 with a perfect negative split (I'm a twat) but given the above the only target was the ego appeasing sub-3. I want to have run all the majors in under 3 hours, and giving the logistical complexities/expense of these races I didn't want to have to try again..
The evening before the race I wrote this Instagram post (which I share here for context):


All the gear
In the days pre race we had gone to Tracksmith (your fancy expensive running lifestyle brand) to pick up some swag, and gone to the Nike store to pick up finishers jackets (wow Nike did a terrible job of marketing). This was super weird for me, because I wanted all these things and wanted to embrace the marathon atmosphere but was genuinely concerned that the race might turn out to be an absolute shitshow. I didn't want to buy a finishers jacket to then not finish (and I also didn't want to pay $125+tax). I also didn't want to be a debbie downer for Alex who had nailed her training and was understandably excited.

I was fairly anxious in the weeks/days before the race because whilst I am totally aware of maranoia, I feel that I have enough race experience to know when an issue is an issue. It wasn't the case that I had a niggle the day before the race. One small comfort was that I have successfully run races in all sorts of weather conditions with issues/niggles of all kinds. That said, I don't recall ever running a race with a leg based issue. Apparently legs are fairly fundamental to running.

Race day
On race day we got up and got the bus/tram to the start. It was all fairly easy. Then we went our separate ways to find our starting corals. I got to mine, wandered around for a bit, then got in the toilet queue. By the time I'd completed toilet round 1 the queues had gotten long - there was no time for a round 2. I went into the coral at 7:15am, and searched for the 3 hour pacer. I had agreed with to meet Alan (a friend, fellow club member) near the 3 hour pacer. He had also had injury issues in training and we had planned to run together and just see what happened. I wasn't convinced I'd find him because the corals were pretty packed, but in the end he found me. Success.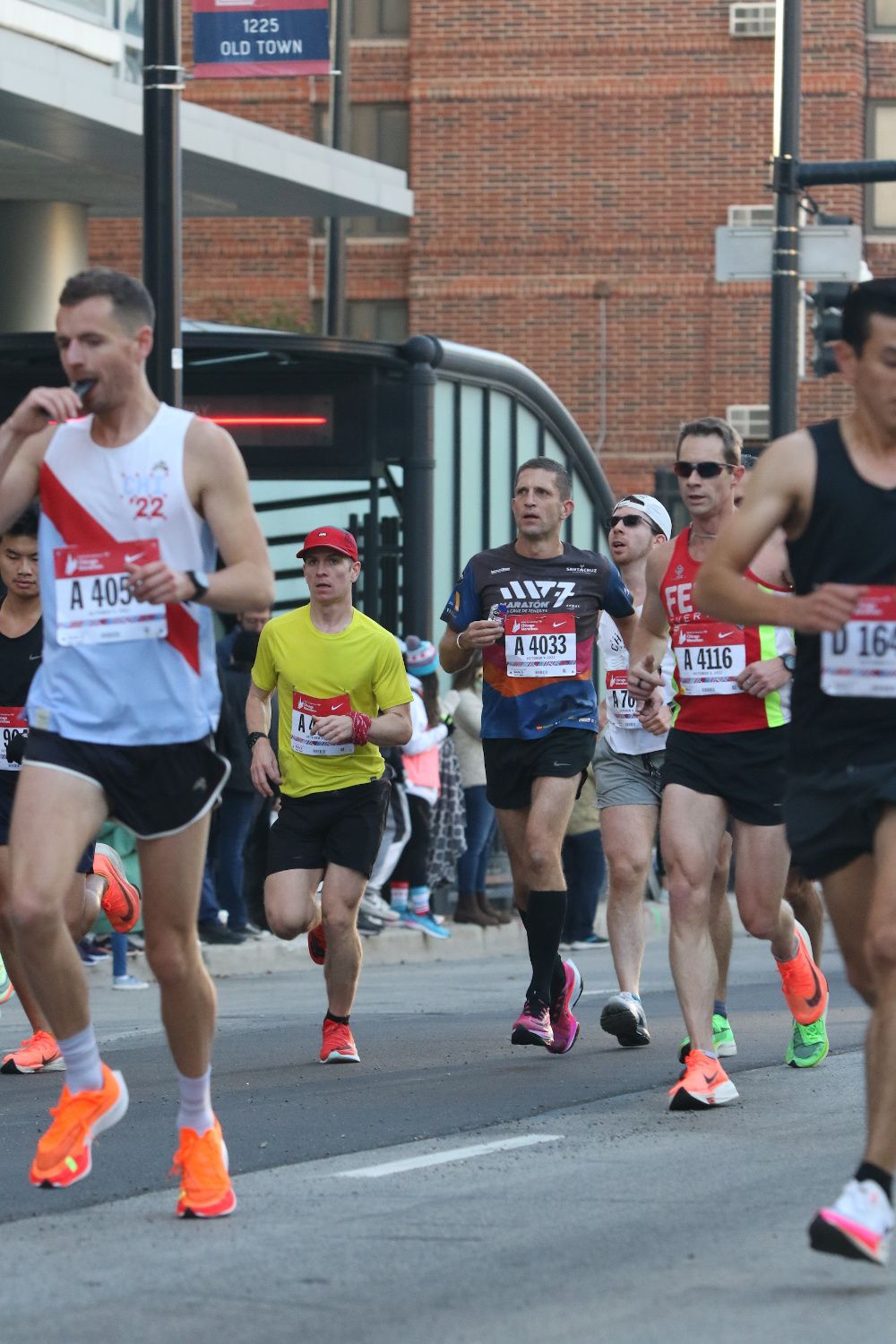 We started out too fast (obviously). There was no cardio issues (but there never is at the start) and we were basically doing 6:40s whilst having a chat about how broken we both were. My knee got worse after a mile. At mile 6 I told Alan it was unlikely I was completing another 20 miles, and a statement (that was repeated many times) was made: "I'm going to keep on going until I can't keep on going".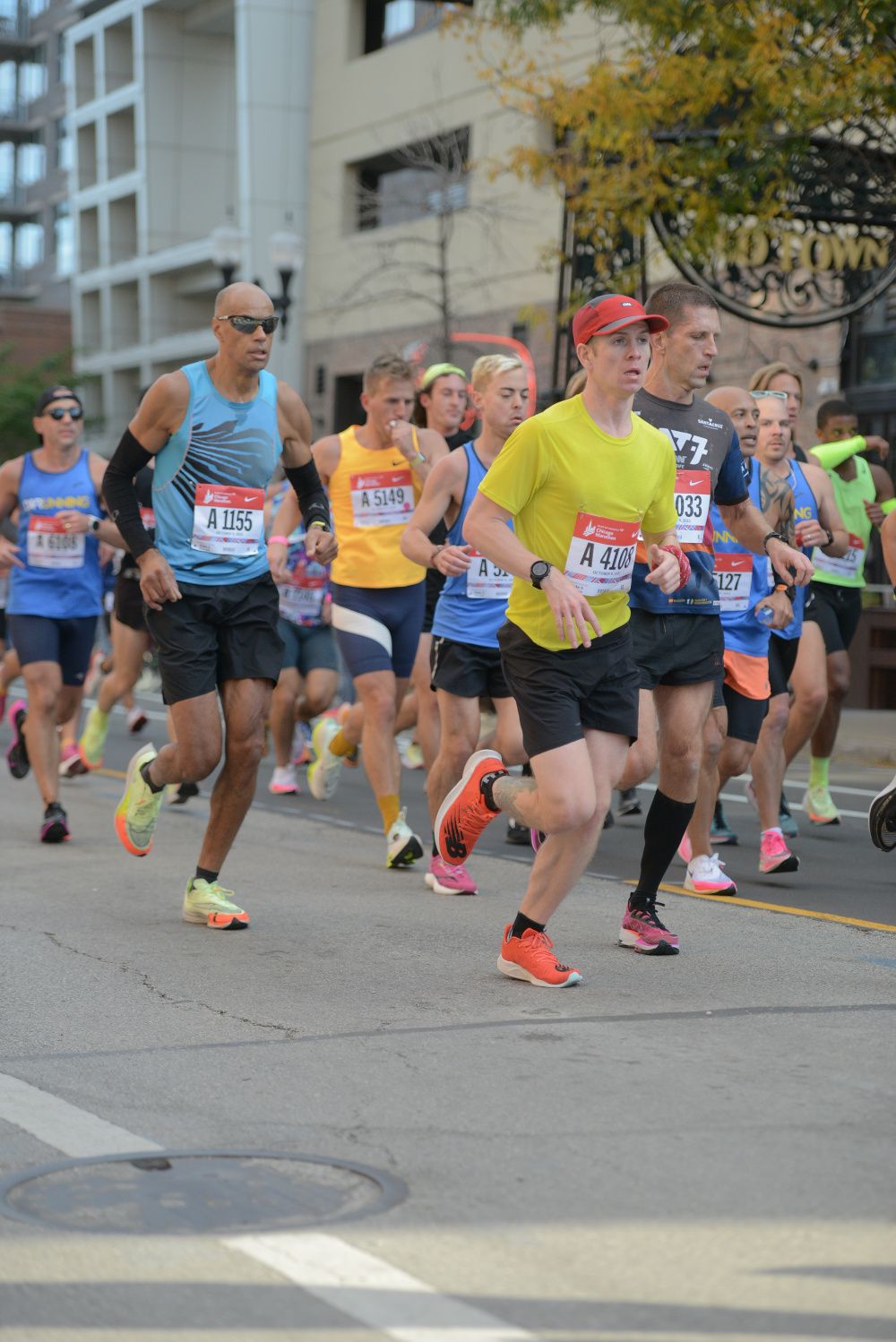 We alternated moans. Alan had hamstring issues and a few times told me to go on ahead. I had knee issues and a few times said the opposite. Fortunately we avoided issues occurring at the same time and as we were going too fast for our only target (sub-3) we just offered to slow it down each time and keep moving. This was the only reason I finished the race (thanks Alan).
We had a long chat somewhere between miles 6 and 9 about 'injury vindication'. In my Instagram post (linked above) from the day before I had noted that I didn't want to be that guy moaning about injuries to then go on and run an insane time. The premise of the conversation was somewhat perverse (especially mid marathon) but I essentially felt vindicated in my complaining - the one positive to take from what (at this point) felt like inevitable failure was that I did in fact know my body well enough to discern the difference between an injury and a whingury. Whilst I did hit my sub-3 goal (spoiler) I still think that I'm a 2:4x marathon runner on my day, and at some point I'm sure I'll put in the effort again to go for gold.
I remember seeing a banner that motivated me a surprisingly large amount. It simply stated: "One day you wont be able to do this. Today is not that day."

At mile 9/10, for no obvious reason my knee pain stopped. It came back around mile 18. But 8 miles relatively pain free also certainly helped me get round. I have no clue why it stopped..

Interestingly Alan and I kept on bashing into each other. He was on my left and I have no idea why but yeh.. we just kept on running into each other. I don't know if some sort of leg imbalance basically meant I was constantly running to my left XD Regardless, when he ran on my right things were fine. That said, as the miles progressed my ability to converse gradually deteriorated so I couldn't request he run on my right.
At mile 17 my pace was slowing and Alan looked OK. I told him to go on as I was going to slow down. At mile 18 Alan had to stop to stretch (to avoid cramping up) and whilst I half offered to wait, I kind of didn't because I had entered the stage where if I stopped I wasn't starting again. This was sadly where we parted ways.

Over the next few miles I got the random 'biofreeze' sachet out of my pocket and put it on my knee to hide the pain. It was a bit shit. But placebo, feeling like I was doing something etc was probably useful. I also knew that there was an official 'biofreeze' station at mile 21 so I targeted that. That was also shit. Some volunteers half heartedly spraying in the vicinity of your legs. Whilst I get that rubbing strangers legs is kinda weird the product doesn't really work in spray form and certainly doesn't work in my opinion if not rubbed in. All a little pointless (see my Comrades post for details of the true muscle rub MVPs).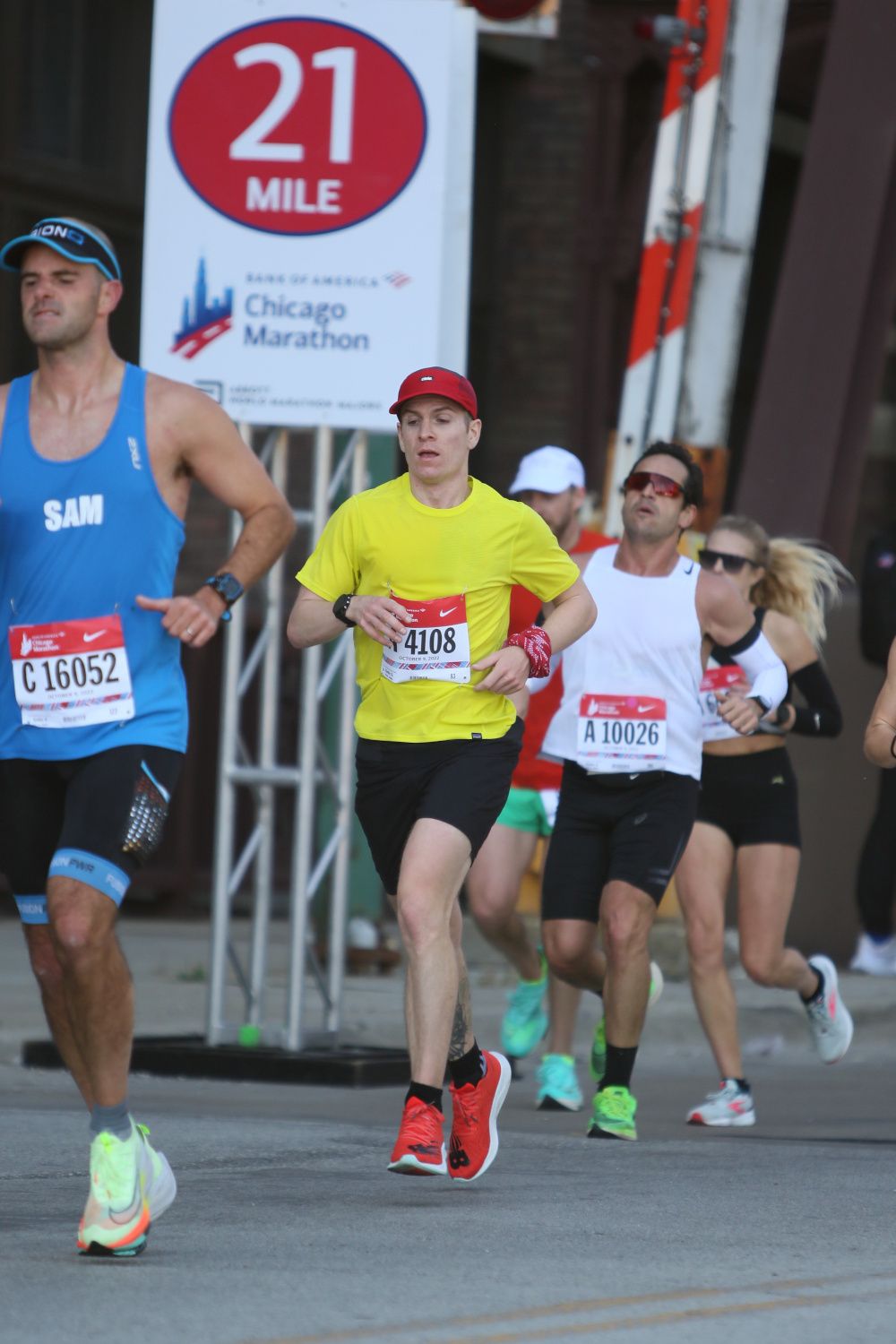 At this point I was bonking bad. I feel in hindsight that whilst I felt my fitness was on point, I'm not actually sure it was. Certainly my knee pain did me no favours but I don't think it'd be fair to blame my knee for everything. Mile 23 sucked because you can see the mile 24 marker on the other side of the road where you loop back. It had got to the point where I was having a walk whilst taking a gel because I just wanted a break. I even had half a banana which is weird - I very rarely go off piste with nutrition in non-ultras. When I do it basically means I'm fooked. Fortunately I was able to motivate myself to get moving again. Shortly after 24 (I think) I saw a 3 hour pacer had passed me. I knew based on my first marathon experience (back in Manchester) that when the pacer bests you, you never catch them. That said, for whatever reason I was able to keep going. I eventually got to a 400 metre to go sign. The final 400m does have a slight incline but.. meh. I gave it all I had, and then even though the clock was over 3 hours I sprinted to the finish.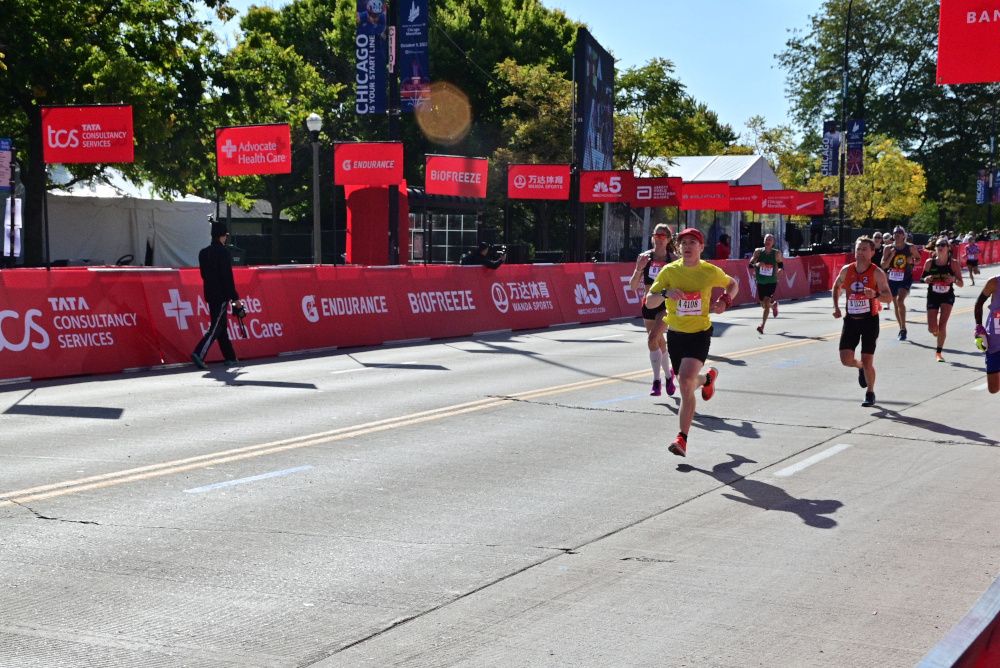 I knew that I hadn't crossed the start line immediately, and based on the clock at half way I thought I had about 2 minutes to play with. Some of the people I was sprinting past did not look too concerned about the clock, but having looked up some random race numbers post race it would seem that they probably had started later than me and had time to spare. Once I'd crossed the finish line I then harassed a random man with a phone to see what my finish time was. At first he seemed like he couldn't be bothered to help, but when I explained the situation he did look it up. When he saw the time I think he went more mental than me XD. 4 seconds. I reckon if I'd carried a phone that would have cost me 4 seconds.
I recall relatively quickly thinking "That must have been exciting to watch on the tracker". This was confirmed to be the case after the fact. Apparently lots of members of the club had been glued to their screens in the pub back in Manchester (where they were celebrating their Manchester half marathon successes).
Obviously I was super happy with my time. It wasn't my original goal to only target sub-3, but when circumstances change plans must change. So many times I thought it wouldn't happen, and the fact that the margins were so thin showed how touch and go it was.

I'd like to say that I planned/paced the race to a T, but in reality I did nothing of the sort. I just kept on running, and when I bonked I just kept moving forward. I didn't know I was on the pace or that I was close. To be honest, I thought I'd missed it when I saw the 3 hour pacer in front of me but I just carried on.
I got lucky with my races this year - I set targets, I pushed, and I kept on going. But it very easily could have gone the other way. I could very easily be posting about my disappointment at doing 3:00:04. There was no skill here - it was luck.

Alex absolute smashed it and came in with a massive PB of 3:16:20. Turns out that if you put in the hard work during training then the race IS your glory lap. Basically a training and racing masterclass.
Post race
Je suis broken. I realistically shouldn't have run in Chicago, but I'm glad I did. That said my knee is seemingly borked. A few days post race I could walk without issue, but any running seemingly immediately aggravates it. I've also seemingly lost a silly amount of fitness super quickly. But.. that was the deal I made with the devil, and I'm cool with it. It was always get through Chicago and take time off. That's cool - I worked super hard training for Comrades and I'm pretty exhausted. I joke about having retired from running.
I'm also somewhat OK with not getting into Tokyo because I don't think I'm going to get my motivation back with enough time to do the training to run it well anyway. So I'll be a supporter. Although.. my investigations into other routes of getting into Tokyo has turned up options that actually have potential. It is still possible that I could get a Tokyo place so I should probably more proactively rehab my injury. Basically, I'm not too bothered either way - one day I'll do it.
Pre race we hadn't done too much. Just eating carbs, going to the expo, going to parkrun (as mentioned above), and seeing the Blueman group (which was pretty cool). So we went ahead and did the obvious tourist stuff post race - architecture tour, pizza, popcorn, navy pier, rainbow ice cream, zoo (polar bears are big !).
I'll end this post with some photos: