Firstly.. credit to my brother for the exceptional wordplay which is the title for this post - he used it first. Also.. congratulations on your engagement. One day I would like to get married and be good at wordplay.
Two weekends ago (23rd/24th April) I was down in London supporting my elder brother in the London Marathon. He also ran the marathon last year and is the reason that I started running again.
I have applied again this year, and will hopefully get to race in 2017.
The Race
He completed the race in 3:43:53 which was an improvement on his time from last year.
Whilst looking up his time on the London Marathon website I saw that there was another runner with my name?! - Tom Clowes. I thought it might be the Tom Clowes who stole my domain name, but the ages don't add up (it says his birthday on the homepage - I am not a creepy weirdo). #mildlyinteresting
Whereas last year I did not see him once (even though I had basically run a marathon myself travelling around London). This year I saw him 3 times ! I went to Canary Wharf where you can quickly get from Mile 15 to Mile 18 (it loops around), and where the crowds are a little thinner. I also saw him at Mile 22 but the crowds were too thick and he couldn't hear me.
This year I knew what he was wearing, and because (weirdly) no-one else seemed to be wearing red shorts he was relatively easy to spot. After spotting him the first time (and because at this point he was running a fairly consistent pace), I also knew that he was shortly behind 'BOB The Lobster' (a man named BOB (at least that is what his shirt said) dressed as a lobster).
At Mile 22 there was a man who told me that his surname was also Charles. I did not find this interesting.
Running a marathon is impressive. Beating your PB is awesome.. but doing it after having gotten engaged - excellent work.
Engagement
I am still a little hazy on the exact details of the engagement. I tried not to ask too many questions beforehand (as I figured that organising a proposal and running a marathon would be pretty stressful). Then.. afterwards.. whilst celebrating I consumed quite a bit of Whiskey. As such some of the insight I may have garnered may have been removed from my memory bank.
My brother organised about a million surprises for his fiancee to be, Melissa. These included:
Watching the marathon from a boat with unlimited Prosecco
Her family making a surprise appearance for celebratory drinks/food
Um.. a proposal.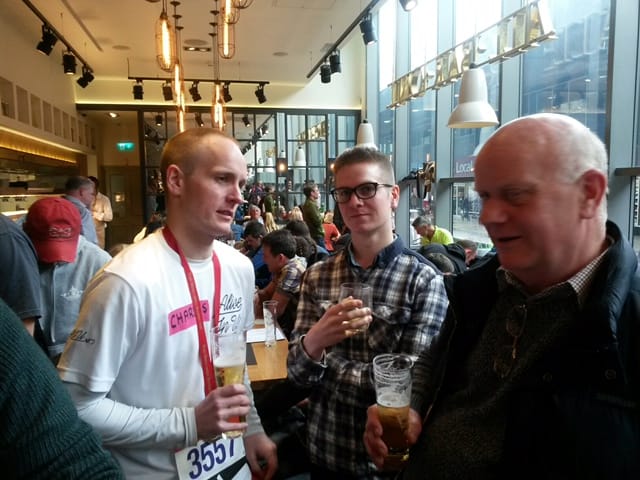 In this photo my brother explains to my father that a marathon is 26.2 miles - he wretches at the thought whilst I wonder to myself as to why my mother is taking a photo.
We went to Prezzo at Euston for a celebratory meal - it was really rather good. I felt like quite the pig eating a giant piece of pork belly (then again, I guess pigs don't eat other pigs..). I couldn't even justify it by saying I had run a marathon.
My brother just had a pizza which was bemusing to me given my habit of eating all of everything after racing.
Congrats Charles/Mel !