Race Report: Essar Four Villages Half Marathon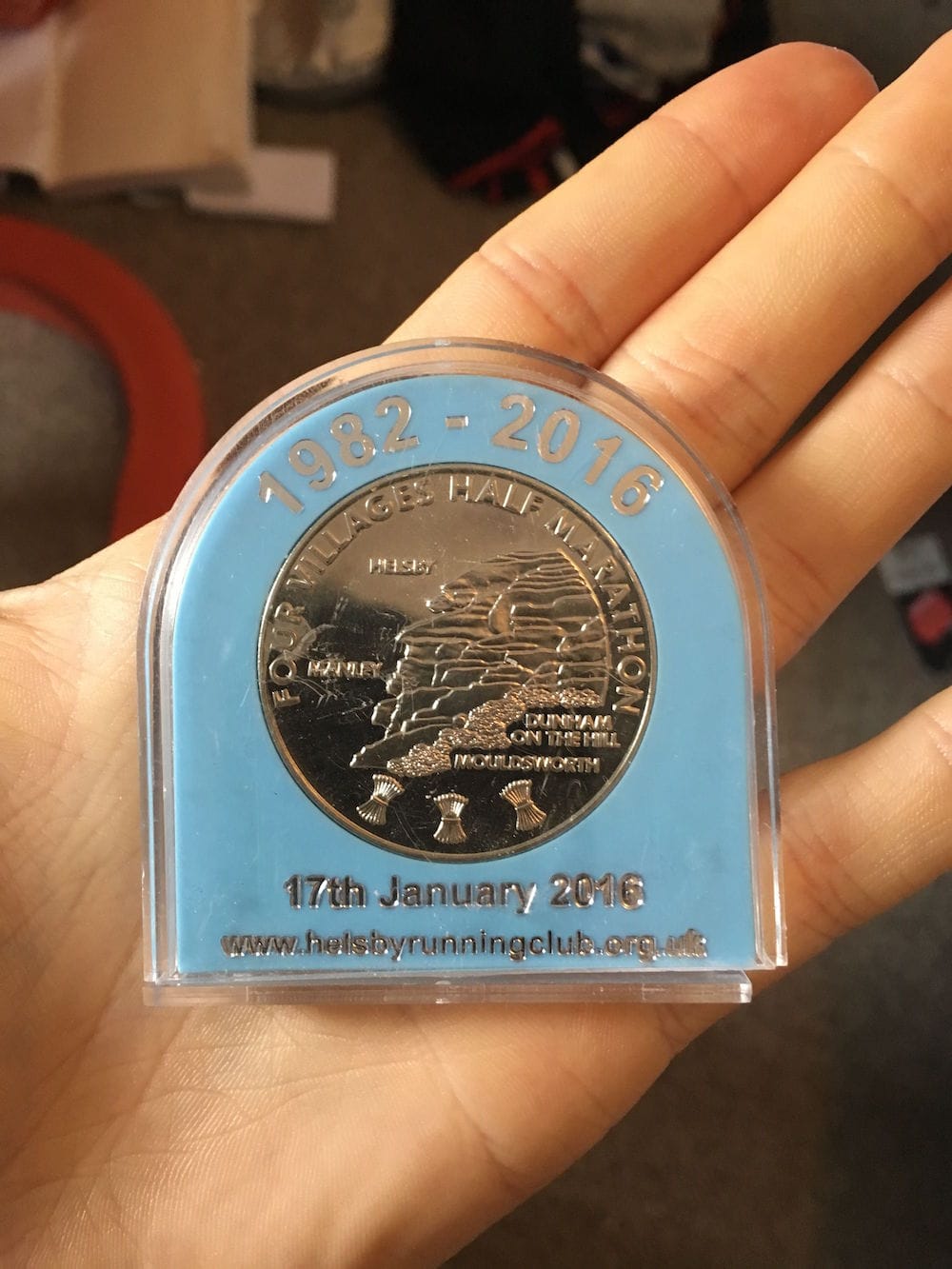 Race details
The Essar Four Villages Half Marathon was held on the 17th January 2016 in Helsby, England (and surrounding villages).
It was my first half marathon, and I finished it in 1:26:50.
More information about the race can be found here.
Travel and accommodation
Helsby is fortunately suitably close to my home that I was able to have a good nights rest the night before and then drive up in the morning. There were a few complexities with parking, but fortunately I arrived sufficiently early that this was minimal stress.
Pre-race nutrition
The day prior to the race I tried to eat more carbs than normal. I ate various rice based dishes, snacked on rice cakes and sweetcorn etc. I did not really alter my diet the week prior to the race.
On the morning of the race I had a large bowl of oatmeal mixed with banana.
Tactics
Having completed the MBNA Chester Metric Marathon at 6.53 min/mile pace I was wanting to match this pace, or beat it. Whilst I had been injured prior to the race (plantar fasciitis), this injury fit nicely with my taper time and as such I felt relatively well rested on the start line.
I didn't plan to follow any particular pace, but rather to go out and run as fast as possible for 13.1 miles.
I did position myself in front of the 1:30 starting point, so I guess that was a conscious target.
Miles 0 - 2
I started running, and got taken in a bit by the atmosphere/number of people. Whilst I felt OK, I remember thinking "OK, This is quite fast". Interestingly, a look at my splits indicates that I did not slow down.
Miles 2 - 11
The course undulated somewhat but no point was particularly stand-out tough. There were a few occasions where you'd reach the top of a gentle slope, turn the corner and see a significantly greater incline.. but because this was my first half I was extremely motivated to push myself the whole way around.
Miles 11 - 13.1
I had vaguely remembered overhearing someone state that the final miles of the race were downhill. When I got past mile 11 I remembered what I had heard - it was true. It is always nice after running generally uphill that "What goes up must come down". The final miles were by no stretch easy but I was certainly glad that they were downhill. It allowed me to push myself that final little bit.
Thoughts
I was extremely happy with my time. I beat any goals/expectations that I had had in the back of my mind.
For the middle of January the weather was good (especially given that in previous years the race had had to be called off), and it was very well organised for a small race.
The finish was also pleasantly close to a large Tesco which meant that 20 chicken wings, 12 mini milks, and a hot chocolate were easily consumed as post race sustenance. Winner !
---