Race Report: MBNA Chester Metric Marathon
Race details
The MBNA Chester Metric Marathon was held on the 4th October 2015 in Chester, Wales.
It was my first metric marathon, and I finished it in 1:52:55.
More information about the race can be found here.
Travel and accommodation
We chose Chester because of its proximity to our family home. As such we simply drove up the morning of the race. I didn't have to drive. Perfect !
Pre-race nutrition
Oats ! Oatmeal is just the best !
Tactics
Everyone has some sort of motivation when running a race. With this being my first real race, and with this being the first time I had lined up against my brother in a competitive capacity.. the only real goal was the unspoken 'battle of the brothers'.
I simply wanted to get around the course as fast as possible, ideally in the process beating my brother.
Miles 1 - 8
The metric marathon route takes an 'out-and-back' approach. The first 8 miles were spent thinking "as soon as you reach half way, all you have to do is get back to the car". It was extremely tough, and I was not explicitly keeping an eye on my pace - I had no idea how fast I was going.
I remember targeting various people in front of me and simply trying to keep them where they were (in relation to me). There were some extremely impressive looking athletes.. that is to say they seemed to be doing what I was doing with ease/elegance?? whilst I was dying inside.
At around mile 7 I saw another member of our party, Henry on the return leg. Being an extremely good runner, this was unsurprising but he did say after the race that he had been extremely surprised to see me at the point he had seen me. Ego boost !
Miles 8 - 15
This was the endurance part of the race. It was simply a case of keeping on going. At this point I was not catching anyone or being caught, I was simply maintaining.
On the way back the marathon route joins up with the metric marathon route so there were more people. I imagine this can be a little disheartening for the marathon runners (who have less energy in the tank).
I had taken gels with me, and had taken two at this point. Whilst I had trained with gels, I noticed a stitch coming on just after the turnaround. This was pretty darn uncomfortable.
I remembered my brother telling me that towards the end of the race there was a big hill into the city. I had forgotten about this until I got to it. Fortunately for me whilst tough (I suspect I did slow down), it was manageable. I think that knowing you are close to the end makes these types of hills OK.
Miles 14 - 16.2
The evil organisers had arranged for there to be significant crowd support within the final miles (as a result of the route coming back into the city). As a result I killed myself in these final miles. The crowd were extremely motivating, but they were perhaps a little premature in their sentiments. It turns out that the finish line was not "just around the corner" :)
That said, I did manage to 'sprint finish' across the line (just about) after 10 minutes of (I imagine) ridiculous speed fluctuations.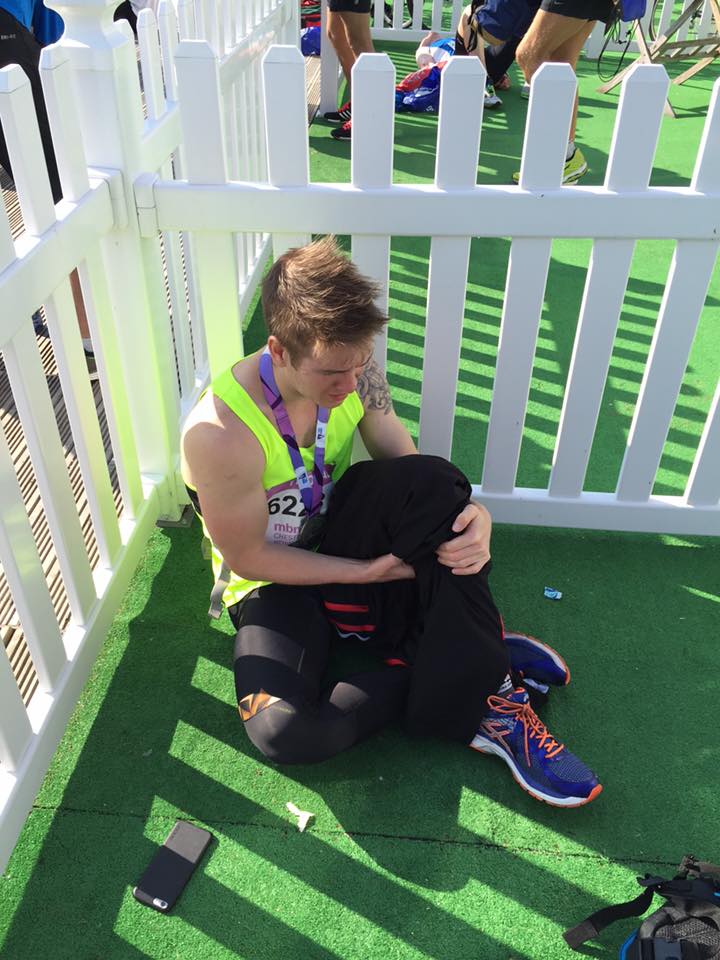 Thoughts
This was my first 'real' race. I did beat my brother. As such I was extremely happy !
Given that I had done significantly better than anyone had expected, the 'support team' hadn't actually seen me finish. As such there was (apparently) a brief period once my brother had finished where everyone thought I was still on the course. I was actually on the other side watching :P
I ran the race with my phone, listening to music. No-one else in our group had music, and a significant majority of the other runners had run the race without headphones. Having always trained with music I was of the view that running without music would be impossibly boring. Going forward I intend to see what it is actually like running without music - it'll be one less thing to carry/worry about.
---