I went to Barcelona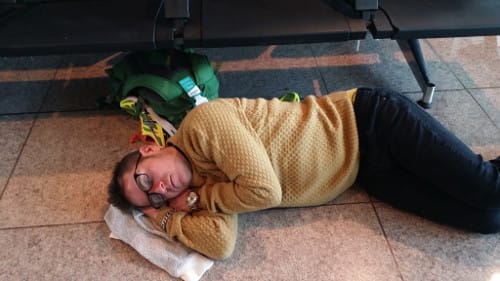 I have had one of those months such that justifying a mini holiday was pretty easy. Accounts, tax returns, running etc etc. Things have been stressful and as such when Quintin (an old friend) mentioned he was going to be in Barcelona with his wife (Dasom) I figured I should go and say hello.
I tend to blog about running, training, and diet. I like the idea of running in every city that I visit so I did take my running kit. Unfortunately I didn't really get much running done. I did one 11 mile run, but the majority of my time in Barcelona was spent eating, drinking, or recovering.
Quintin mentioned to me how in South Korea there is a particular blog where the author outlines every detail of every minute of every day. I going for a bit more of a concise, casual overview.
Running
As a result of the eating and drinking the run was not superbly enjoyable either. That might also be in part due to the fact that Barcelona is a massive hill. One positive - I got some awesome views of the whole city when I reached the top.
Eating
It was one of those situations where you plan to keep on track, eat healthily etc, but it just goes to shit. My binge eating issues bounced back, and once I had broken the metaphorical seal I figured what the hell.
The end result was sufficiently ridiculous that after the initial shock and realisation I was mildly impressed. In 5 days I put on 13lbs. The level of gluttony was admittedly ridiculous, but I didn't realise it was that ridiculous.
I can't remember the specific dates so this is just a general overview (in a vague order).
On the first night we went out to a fairly decent steakhouse: 9Reinas. The steak was good, the chocolate volcano cake exceptional, and the 'waffle chips' totally disappointing.
![Chocolate Volcano Cake !](/content/images/2016/11/chocolate_volcano_cake.jpg)
On one night Dasom cooked Korean food (she is Korean). Sticky rice cakes, fish cakes, and some epic hot sauce. It was great. On another night she also cooked a pretty awesome curry.
Generally across the week we overindulged in desserts. I think every night Magnums, Haagen Daaz, Spanish desserts, or other interesting looking ice creams were purchased. The presence of them usually resulted in me eating 4 at a time. Such was our obsession that by the end of the five days we had a pretty good relationship with the security guard at the supermarket (I jest - he hated us).
![Danet - The best a man can get](/content/images/2016/11/danet.jpg)
On another night we scoured every supermarket in Barcelona to find port. Port is seemingly near impossible to find in Barcelona (anyone know why?). We found port, and wine, and other things and drunk it all. This night was delayed because it turns out that you can't buy alcohol in Barcelona after 10pm !
![Port = no hangover](/content/images/2016/11/port_night.jpg)
On another night we ended up in a Brewpub. We tried their own brews (which were awesome), and then ended up drinking Belgian beers. We drank one beer which was strikingly similar in flavour to port, and another that had a champagne style to it. I was impressed. The bartender was impressed by our ability to drink. Unfortunately what I didn't realise at the time was the hangover that was to come - it wiped me out for the rest of the trip :P
During our attempt to stumble home we found amazing Pistacho ice cream, and we got churros and coffee at some place called 'Cappukchino' just so Quintin could use the toilet. On the sign they had the 'K' backwards. How hip.
I introduced Quintin and Dasom to Cacaolat. They enjoyed it.
For hangover lunch we made our way to a pizzeria called Pizzería Il Fuoco (The fire). The guy couldn't speak any English so it was pretty tough explaining that we wanted 9 of the 'feed your family' size slices. One had ham and egg on it. I don't know how but after reheating the yolk was still runny. It was fantastic. Another had spinach and jam on it. I think it may have been the best slice of pizza I have ever eaten.
On the second last night we went to La Pepita. This is a pretty awesome tapas bar, but it is really small. We had to wait for 20 minutes or so, and I hate waiting. Furthermore I didn't fully appreciate it because I was still dying from the night before.
On the final day we attempted to spend the remaining Euros on a 'baller dinner'. We went to Botafumeiro, a seafood restaurant per Dasom's request. I have no issue with seafood.. I just tend to prefer meat. Regardless.. 'when in Rome'. I tried Oysters for the first time - pretty good. We shared Paella, Turbot, a cod and raisin pie (specialty - surprisingly good), a massive smoked pork steak, and some desserts. If that wasn't enough they gave us some extra free desserts too. Quintin and I had eaten a load of Haagen Daaz before coming (for some reason) too.
Cool stuff
Ok.. aside from eating we did actually do/see some cool stuff.
![Barcelona's beachfront](/content/images/2016/11/beachfront.jpg)
Barcelona has some pretty impressive markets.

The beach front is pretty stunning.

There are lots of baller yachts (unsurprisingly lots of them bear the Cayman flag).

We rented bikes and cycled for ages. It was pretty great, and only cost 4 euros.
![I want to ride my bicycle..](/content/images/2016/11/barcelona_bike.jpg)
There are beautiful views, and there is awesome architecture (Gaudi).

We visited/climbed Montserrat.

My hangover made this quite hard.

I tried freshly made cottage cheese with locally produced honey. It is a lot better than Aldi's stuff.
![A well deserved rest](/content/images/2016/11/montserrat.jpg)
Thoughts
Some might call me a heathen, but whilst Barcelona is great, there are other places that do everything better.
There are places with better food.
There are places with better views.
There are places with more to do.
If I had to choose one European city to visit, it would never be Barcelona. That said, you have to visit at least once just for the experience.
---