Last year, my great Aunt Carol sadly passed away. She lived in a stunning property with beautiful views of Skiddaw. It is aptly named Skiddaw Lodge. My uncle (who is the executor of her estate) kindly allowed us to stay in the property (thanks Benjie !). As such we were lucky enough to be able to spend the week in Keswick, Cumbria. Given that it was really great I have chosen to document it.
I have travelled extensively during my life and have been to some beautiful places. I have also been to the Lakes numerous times when I previously used to whitewater kayak. It would seem however that I never actually stopped to smell the roses. The natural landscapes surrounding Keswick are some of the most incredible that I have ever experienced, and they have been on my doorstep all of my life. Better to realise late than never.
I went with my girlfriend Alex, my brother (Charles) and his girlfriend (Cheryl). Alex and I are both fairly athletic, and whilst Charles is also a runner we are the 'run every day, and run too far' type. As such Alex and I spent a lot of time walking, and running up, down, and around things.
Monday
We drove up on the afternoon of Monday 24th. We arrived, admired the property and looked for food. We didn't have the foresight to book restaurants which meant that it was tough finding somewhere to eat. Post covid lockdowns, everywhere and anywhere was booked.
I aptly demonstrated my Britishness by responding with "Oh Perfect" when being informed that the restaurant we were inquiring in was fully booked. Alex lost her shit and still finds this funny. OK, It was quite funny.
Fortunately Alex is a great cook !
Tuesday
On the Tuesday we visited 'Fellpack - The Round', a trail running themed burger restaurant located next to Moot Hall - the starting point of the infamous Bob Graham Round. We didn't know this when we went in, but the burgers were great and the theming ideal for two aspiring ultrarunners.
We had coffee and cake (Alex really likes cake) at Java coffee and ventured up Cat Bells. The weather was mild on the way up, but the views were fantastic:
Shortly after we reached the top the rain appeared. As did the wind. Fortunately we both had good rain jackets but we promptly made our way down nimbly passing a few other couples who looked slightly less prepared.
I felt particularly bad for the couple who had just opened their sandwiches.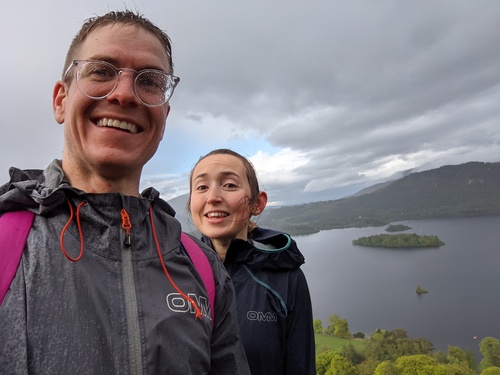 Wednesday
On the Wednesday we booked afternoon tea at The Wild Strawberry. It was amazing. It also turned out that we were the third customers to ever have their afternoon tea . They had has a post covid change of approach, and they executed it super well.
This was definitely my favourite food establishment of the trip. I often have sugar burnout from the prevalence of cake in my life, but every one of the cakes served was what I would describe as 'worth the calories'.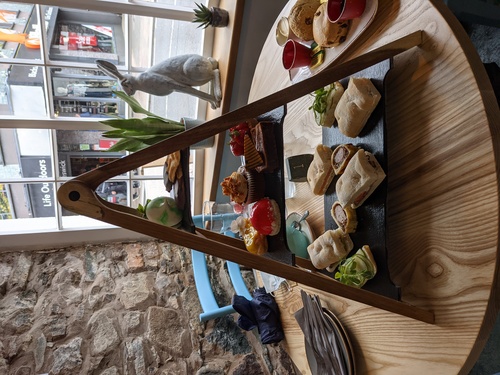 It was raining so we then went to the Puzzling Place which for £4.50 per person was surprisingly good fun. Some of the exhibits make you feel a little sick, but it was certainly an interesting experience.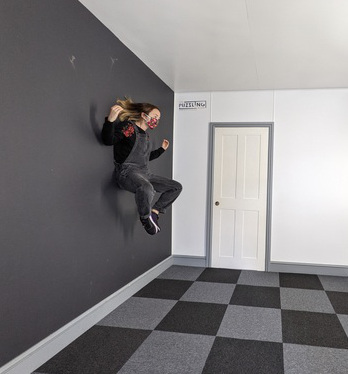 Thursday
We started the day by going out horse trekking at Rookin House Activity Centre. We had both talked about riding horses on numerous occasions but had never actually gotten around to it.
Alex had done it as a child but I had never tried. It was a fun and interesting experience. I rode Romily - the worlds laziest horse and Alex rode Sam.
They were so well trained that there was very little one actually had to do. The horses just walked around a predefined route, occasionally ate some grass/did a shit, and on a few occasions trotted for 3 seconds.
It was a somewhat contrived experience but still really enjoyable. And the weather was good. That was nice.
In the afternoon we walked up Lattrig a 'small' hill near to where we were staying. It was a beautiful day, and the views were amazing.
Friday
We had a Ciabatta at The Chalet in Portinscale. It was decent, but fairly expensive. We avoided their cakes as they looked like they'd seen better days.
Then we went to Ullswater and did the walk to Aira Force. It was an enjoyable walk, but being a very touristy spot on a nice day it was busy. We made our way past the falls and did a walk around Gowbarrow Fell. It was a tough walk, but as a result it was incredibly.. almost eerily quiet. The views were amazing, and you felt like you were the only people in the world.
In the evening we went out for dinner at the one restaurant I had managed to book - The Sizzling Stone. It was my birthday meal, which Charles very kindly paid for.
Whilst a novel concept (you cook your meat yourself on a hot stone) it was poorly executed. The service was friendly but slow, and the hot stones were.. too hot. When the stones came out the steaks were already on them, and already burned. Fortunately it was good quality meat and still tasted great. The good company made up for the negatives.
Saturday
On the Saturday we ran up Skiddaw. It seemed rude not to. Initially I had planned to run it on my own because I thought I could do it faster than Alex. My competitive streak got the better of me. In practice I was quickly humbled, and it was much nicer doing it with someone anyway. Alex is training for Race to the Stones and is in super good form so had I not quickly rejoined her I would have almost certainly found myself beating her by 12 seconds or something pointless like that.
The loop route we chose was incredibly steep on the way out. I tried to run a bit, then walk a bit but quickly gave up.
Some psychopaths had chosen to push their mountain bikes to the top.
The way down was off-road, and whilst less steep.. was still insanely steep. My legs were feeling it after the previous days and there were a number of 'I cant actually stop, my quads no longer exist' moments. Again, fantastic views, but ruined a little at the top by the fog.
We then went back to The Wild Strawberry (obv) and had more amazing cake. Pistachio cake this time.
Sunday
We got up early to go and do Scalfell Pike with Charles and Cheryl.
Scalfell Pike is one of the Three Peaks and so is extremely popular. I remembered seeing news articles about queues to climb Snowdon (another of the three peaks) in 2020 and given that I hate both queues and people I proposed going early to avoid any possibility of this.
The car park was 75 minutes away from where we were staying so leaving at 6:45 am we arrived for 8am.
It was super quiet at 8am and we chose a route up that went via Lingmell (an additional peak). Charles wasn't particularly happy about the additional distance, but it was a nice route, and it was essentially empty.
We came down the 'normal way', and by that point it had gotten busy. I was glad we were coming down at that point.
Going early also had the benefit of avoiding the worst of the heat (although it was still insanely hot).
Monday
Its my birthday !
Alex and I went to Whinlatter Forest for a walk. We intended to walk the parkrun route (which is apparently one of hardest in the country) but ended up just doing a walk.
We chose to have the required coffee and cake before the walk this time. I wanted to get the Thunder and Lightning flavour of ice cream from the Lakes Ice Cream Company. Alex had told me that she had it as a kid and that it was really popular. Unfortunately it was so popular it had sold out. Fortunately however I was able to wrangle the dregs of the carton from the kind waitress which ended up being a full scoop pretty much. It was mediocre.
The raspberry pavlova flavour is way better, and the Cartmel sticky toffee pudding flavour is the best. Its all hype !
After we headed back to Keswick and got some fish and chips from the Old Keswickian. They were great. I have over my 31 years developed a now verified theory that chips are always much better when you have to queue for them because they are constantly cooking fresh chips rather than serving chips that have been lying around for hours. You heard it here.
We then packed up our things and got ready to leave.
Prior to heading home we stopped at Bassenthwaite Lake for a swim. We had bought our wetsuits so it seemed a shame not to use them at least once. The views were amazing. What an awesome place to swim.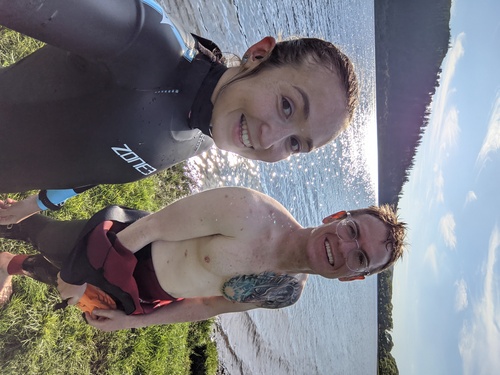 Summary
The lakes have good views, and nice (albeit hard) walks. Would recommend.