Race Report: York 10k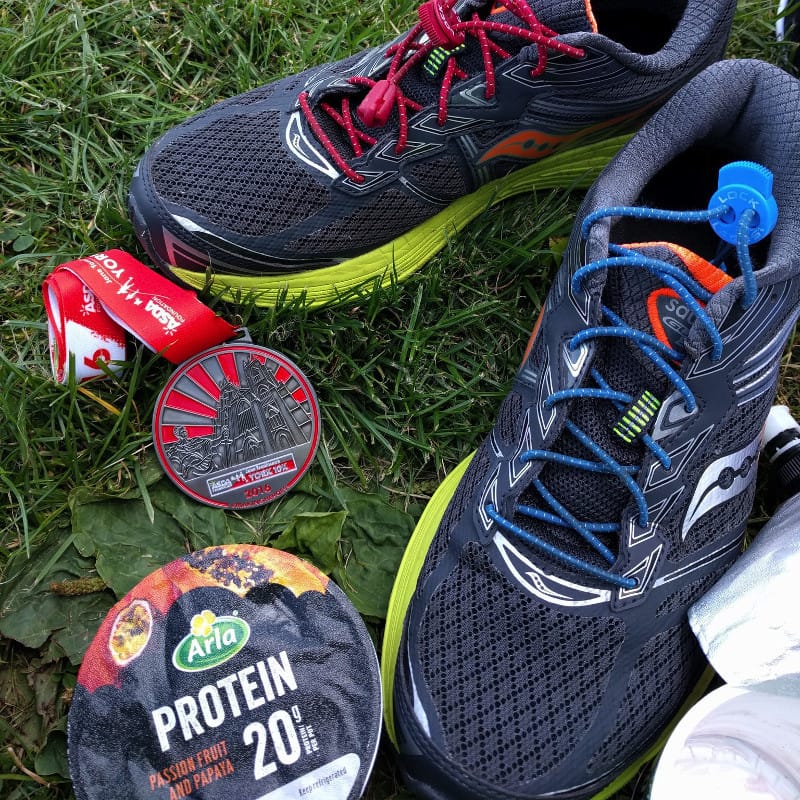 On Sunday 7th August I ran the York 10k - My first ever 10k. I finished in 37:47 (official time) coming in 50th place out of 5,000+ participants. Awesome !
More information about the race can be found here.
Training
25 hours before the race started I was sat at home having not signed up for the race. My training plan (Pfitz 18/70) stated that I need to run a race. I needed to run a race between 8k and 15k so as to simulate race day. I.E running all out with the adrenaline pumping, the environment and atmosphere, and loads of other people.
As far as training goes, as alluded to above, I had been religiously following Pfitzinger's 18/70 training routine. I am coming to the end of my 12th week of training.
There was a small problem in that the tune up race was scheduled for a Saturday yet the only suitable race (the York 10k) was on a Sunday. Not really an issue, but it would mean that I had to then do my long run (an 18 miler) on the Monday. Eurgh.
I sent out an email to the race organisers and managed to organise a space in the race. They were quick to respond and seemed to be very much on the ball. In terms of organisation everything seemed to run like clockwork. It's almost as though they have run this event for 8 years :)
Travel and accommodation
This one was easy. I got up bright and early and jogged slowly to Leeds train station (2.6 miles). As is typical I did not run as slowly as I should have done given that I was running to a race. The night before I had not slept particularly well, but such is life.
Warm up
I ran from York train station to the event location (~1 mile). Along with my early morning train station jog I was happy with my warm up.
Tactics
I had intended to follow the 40 minute pacer and if I had anything in the tank at 4 miles increase my pace. Unfortunately the advertised pacers did not seem to exist. They either simply wern't there or were not wearing their flags/making themselves at all obvious. This was extremely disappointing.
Given this I opted to pace myself aiming for a 39 minute race. I was looking to run between 6:17 and 6:26 minute miles.
Miles 1 - 3
I set off and quickly got into things. I was running sub six minutes for the first mile, and I felt OK. I was somewhat bemused.
The course had no significant gradients. It had slight uphills and slight downhills. The former were a bore, the latter some rest-bite. Half way I was in mild discomfort, but OK, and pacing relatively well.
Miles 3 - 6.2
This was where it started to suck. In hindsight I can't remember much of the race. I can remember the bells ringing as I ran past and a few landmarks, but that is about it. Clearly I was digging in deep. Oh wait.. wind. There was wind.
At 4 miles I sincerely thought I couldn't make it to the end. I always try and be positive when racing, but I really had nothing in the tank. I did make it to the end, but it really hurt. It was mentally and physically very tough, arguably the toughest 2 miles that I have ever run. At the end when I saw the clock, I sprinted to make sure i got in under the 38 minute mark.
Thoughts
Obviously it was fantastic to do so well in my first 10k. It gives me a lot of confidence preparing for Berlin.
It was a shame about the pacers, but it may have inadvertently turned out well for me (although I really do need to learn to pace an even race).
Annoyingly, my TomTom (watch) shows the course as being 6.13 miles instead of 6.21 miles. I noticed a lot of people on Strava having recorded 6.1x mile distances. Whilst the course is a certified distance I am wondering if something was off with the markings. Courses are normally over distance rather than under. It is also plausible that I unintentionally cut corners etc, but I definitely didn't intentionally do so, and to lose 100+ metres you'd have to cut a lot of corners :P Alternatively my TomTom could just be wrong.. GPS is inherently not going to be perfectly accurate. Perhaps someone from the event team could share some insight?
If the course was in fact short, then that is a real shame, and my PR isn't quite as impressive (it would be closer to 38:30). That said, I am not one of those whiny, moany, complainy runners. It is what it is. I couldn't have gone any faster.
Generally the race was very well organised, and the atmosphere fantastic. The free Arla protein yoghurts were awesome too. It was quite expensive (coming in at £32), but the shirt and medal are really nice and they do state that profits go to charity - The Jane Tomlinson Appeal, a fantastic cause !
All in all.. awesome !
---