Post London it was fairly obvious to me that I had overdone it. I had approached my 'season' with the attitude of 'get through London and then think about Comrades'. In hindsight this was foolish - there was never going to be enough time to recover properly let alone get in more mileage (as I had planned).
If you are not sure which race is your 'A race' you are probably spreading yourself too thin. London went really well and left my body pining for rest. Under the circumstances, Comrades also went insanely well.
This is a race report but will also hopefully serve to provide useful information to anyone interested in taking on (what I can confirm is) 'The Ultimate Human Race'.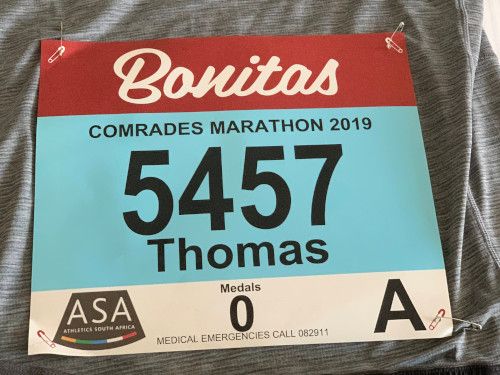 Background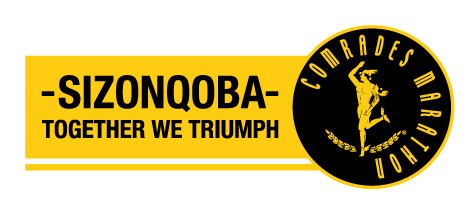 Comrades is a (the most?) famous ultramarathon that takes place between Durban and Pietermaritzburg in South Africa.
Each year (normally) the direction of the route alternates. This year (2019) it was an 'Up' (~87km) run to Pietermaritzburg. In 2020 it is a Down (~90km) run so will start in Pietermaritzburg and end in Durban.
In 2021 it is also a down run (Double Down) in celebration of 100 years since the first running of the race.
I knew about the race as a result of having Googled 'best ultramarathon' when I first started running. It is insane to me to look back at my running 'career' and see how I have progressed past the marathon distance to having now completed Comrades. Not only that, but here I am 9 days on from Comrades fairly confident that I will head back in 2020 to get my 'Back to back' medal - a special medal that you get for running two consecutive years.
One thing that is in my mind great about Comrades is that it welcomes and incentivises anyone and everyone to push towards a goal. Comrades has a number of different medal offerings for individuals that finish under a certain time goal. The first ten finishers get a gold medal for example. Anyone outside the top 10 who finishes under 6 hours gets a Wally Hayward medal. Anyone who finishes between 6 hours and 7 hours 30 minutes gets a Silver medal and so on.
From the Comrades website:
Gold medals: The first 10 men and women.
Wally Hayward medals (men) - silver-centred circled by gold ring: 11th position to sub 6hrs 00min.
Isavel Roche-Kelly medals(women) - silver-centred circled by gold ring: 11th position to sub 7hrs 30min.
Silver medals: 6hrs 00min 01sec to sub 7hrs 30min.
Bill Rowan medals (bronze-centred circled by silver ring): 7hrs 30min to sub 9hrs 00min.
Robert Mtshali medals - titanium: 9hrs to sub 10hrs 00min.
Bronze medals: 10hrs 00min to sub 11hrs 00min.
Vic Clapham medals (copper): 11hrs 00min to sub 12hrs 00min.
Further incentives come in the form of a 'Green number'. If you finish the race 10 times (or win it 3 times) then your number becomes permanently yours. If you don't run for 3 years then your number is reallocated to a new runner. The number of green numbers is testament to the pull of this race. The record is now 47 finishes (!!).
TIP: Talk to green numbers and follow them. They know the course well and know how to pace, when to walk etc. I should have done this.
One thing that Comrades is renowned for is its cutoffs. If you do not reach certain points of the course under certain cutoff times then you are not allowed to finish and have to get on the 'bailer bus'. The most famous is the finish line cutoff of 12 hours. It is absolutely brutal in that you can run every single kilometre but if you do not cross that finish line in under 12 hours you will not get a medal. In fact your finish will not even be recognised. It is noted as a DNF.
I watched the cutoff this year and it was heart wrenching. What sticks out to me is the two individuals who were carrying (dragging?) a third finisher down the finishing straight. They all missed the cutoff. Had they not helped their Comrade the other two would have surely finished.. that kind of sums up Comrades really.
International?
The majority of the Comrades field are South African. A small percentage of entrants come from abroad with representation from most countries that you can think of.
As an international (UK) athlete I think it worth noting that whilst the pre race communication/organisation was less than impressive, the actual event organisation - logistics, aid, support etc were absolutely amazing. You are in safe hands running the race and I would highly recommend it.
There were a few issues that myself (and the people with whom I spoke) bought up. Lets get them out of the way..
— start of bad stuff —
In relation to this years Up run, the post race organisation was 'almost farcically bad' with there being near enough zero help/guidance/support after you left the finishing funnel.
A large sign points off into the distance to the 'International tent' where you are met with the most ridiculous staircase entry point. Your lack of quadriceps at this point will make this a mission in and of itself. One hopes that given that pretty much everyone complained about this it will not happen again. That said, I was told that at the end of the 2018 Down run the International area was setup at the top of a staircase in the Moses Mabhida stadium, so maybe they wont :)
The buses. I did not use the buses offered by the race organisers to get back to Durban but I was told that there was a lot of issues.
Mizuno. Mizuno are (were?) the apparel sponsor for the event. One assumes that cost them a lot of money yet they really did not capitalise on it. The 'shop' at the expo was tiny and the gear was shockingly poor quality.
Green number hospitality. The green numbers I spoke to said it was rubbish/non-existent.
— end of bad stuff —
Given my desire to come back next year and the fact that people come back year after year (and some cases decade after decade) it is fair to say that the awesomeness of the actual race massively outweighs the organisational issues.
Cost
A lot of the British athletes I spoke to were not impressed with the cost of the event. International athletes pay close enough to £200 whereas South Africans pay around £30 to enter. I have no real issue with the cost - it is in line with other large races around the world and can easily/reasonably be viewed as subsidising the cost of allowing South Africans to run the race. On that note..
Durban
I have travelled around the world. Sometimes to run. I have never been to a place whereby the wealth inequality has been so distinct. This may simply be as a result of where I have stayed and/or Geography but it was instantly clear to me the proximity between super crowded areas where people were living in extreme poverty and rich tourist destinations such as Umhlanga where tourists crowd beautiful beaches and sip cocktails in 5 star hotels.
I stayed in and around Durban for 9 days post race and whilst I had a fantastic time it was a real eye opener.
I stayed at the Hilton for the days leading up to the race. It is on the doorstep of the expo and is very close to the start line. Having no experience of Comrades I was trying to keep things simple and I think that was a good choice. That said the beach front seemed like a much nicer/busier area to be and friends have recommended The Belaire Suites.
For some further context on the wealth inequality, a significant number of local runners were sleeping outside the Hilton because they had nowhere else to stay. Whilst I am not suggesting that you don't stay in nice hotels and/or enjoy yourself I think that is definitely important to respect the people and the place. It certainly makes you not take things for granted.
I know others have stayed in Umhlanga (I visited for a day before I flew home) which is basically a wealthy tourist filled suburb of Durban that comes with private security. Some people also recommended Ballito which is a bit further out from Durban center.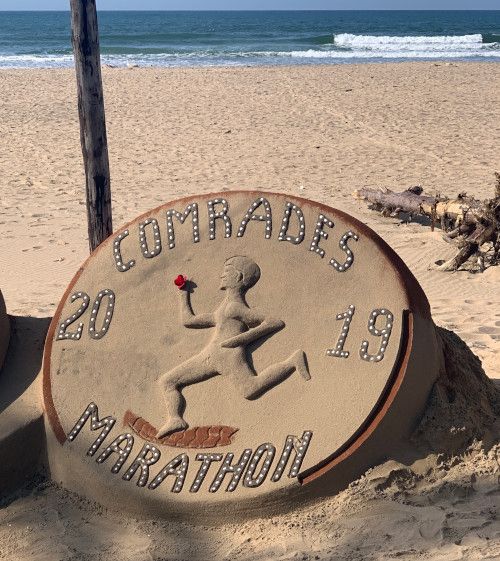 The Race
In terms of training, I did a total of 900 miles in build up for Comrades. I followed a hybrid training (based on my own experiences training over the years) heavily influenced by Hal Higdon's Advanced Marathon 2. More details can be seen in my London Marathon 2019 race report. London battered my body quite a bit and the month between the two races was certainly not enough time to recover appropriately and get in additional miles.
I had planned to run over 1000 miles in preparation for Comrades but I prioritised getting to the start line when things were not going as planned.
I utilised the Run 48 mobile app (of course) to track my training for London. You can see exactly what I did here. You can also follow me on Strava.
My training post London was very much 'do what you can when you can' but prioritised running up hills.
A lack of proper recovery and having probably overtrained meant that I wasn't where I would have ideally been fitness wise. I did a Parkrun a week out to try and gauge where I was and ran a 19:32. This was not ideal.
TIP: More than 1 month between serious target races.
I arrived on Friday morning having not really slept on the overnight flight from Heathrow to Durban.
TIP - don't do this. Arrive much earlier so you are fully rested and recovered for the race.
Pre race I had not been feeling great. I am fairly certain that the cause was British Airways food. The result was that I was not having an enjoyable experience with my body below my stomach.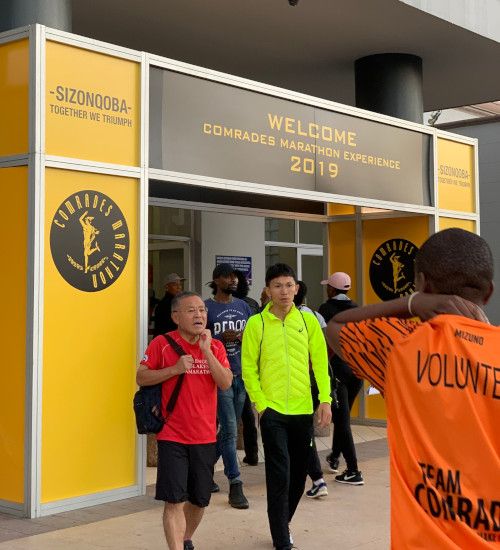 I visited the expo as soon as I arrived and got my race number/timing chip. The expo was interesting, and there was lots going on. Nutrition shops, gear shops, food stands etc. There were also sections where you could find out about the course (profile etc) and there was a 'Novice area' for race first timers where you could ask any questions/eat biscuits.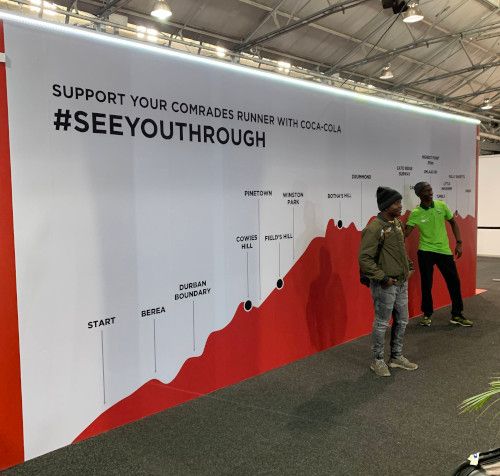 I met up with the Runners World forum Comrades group at Lingela (an all you can eat buffet) on the Friday and I took it easy (stayed at the hotel) on the Saturday before race day.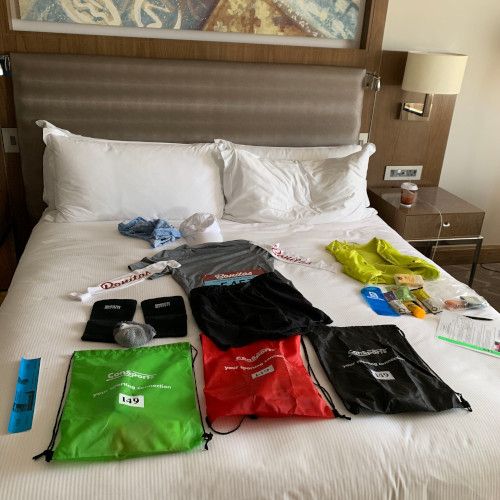 I was drinking all sorts of electrolytes, probiotics etc, and got as good a nights sleep as can be expected pre race but when I woke up I knew that race day was not going to be fun.
TIP: I trained hard and ate well for 4+ months, then I ate airline food, and buffets (at the hotel - it was easy and free, and Lingela). This was stupid. Nothing new on the days up to race day.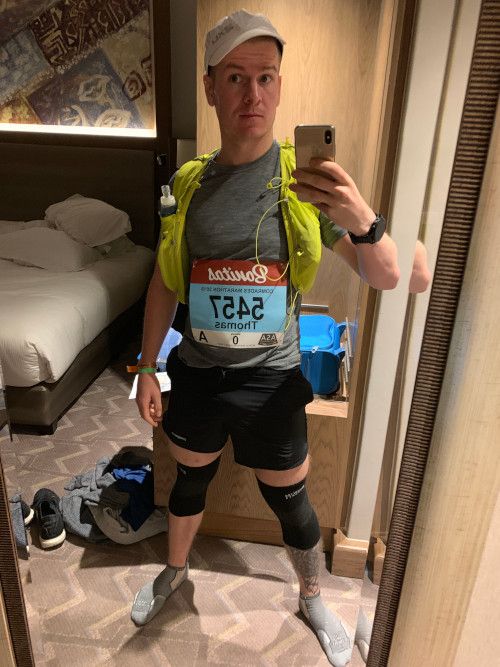 I met a Brit and and American in the hotel lobby and headed to the start line. I acknowledged fairly early on that I was still going to race having spent a lot of time training and a lot of money getting there. I just didn't know how I was going to race.
The start is as impressive as people suggest. The national anthem and Chariots of fire are very impressive. That said I was in my own head a lot and didn't get to embrace the experience as much as I would have liked. Just as well I am going back.
The gun went off.
KM 1 - 26
I had signed up to a seconding service provided by 'Consports'. They essentially take any of your own nutrition/gear (you drop it off the day before) to three designated points along the course so that you can grab it as you run past. The service was great and I would highly recommend it.
As I started I decided I would still run at 'Silver pace' as I had originally intended and just see how things went. My thought process was that if at half way it 'just is not happening' then I would slow down and ease through in under 9 hours to get a Bill Rowan medal. Spoiler: ease through.. lol.
In the marathon I have had fortunate success in going out too fast (because you have lots of energy/adrenaline, and feel good) and holding on. I did not go out too fast. I did not have lots of energy. I did not feel good. It hit me in the first 10k that this was going to be a long day.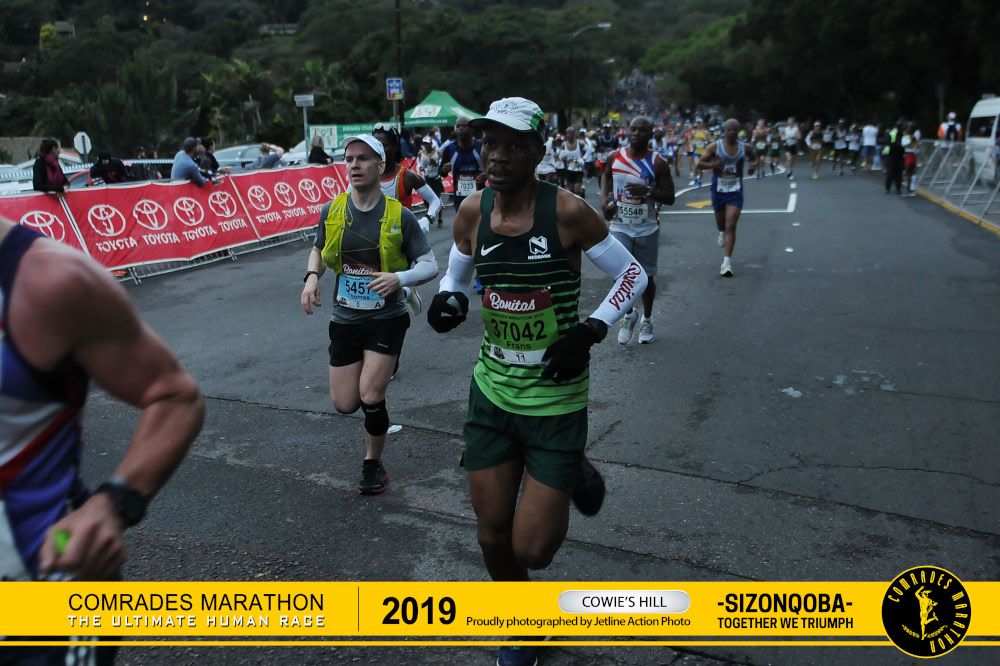 The hills before the named hills were harder than the hills in.. any race I have ever done before. As far as the named hills go, weirdly 'Cowies' was OK, but the sharp turn onto 'Fields Hill' nearly led me to 'I can't do this tears'. The problem with Comrades is that the numbers are always big. In contrast to British races the KM markers count down to 0. Feeling terrible and seeing 65km to go requires top level mental game which on the day I did not have.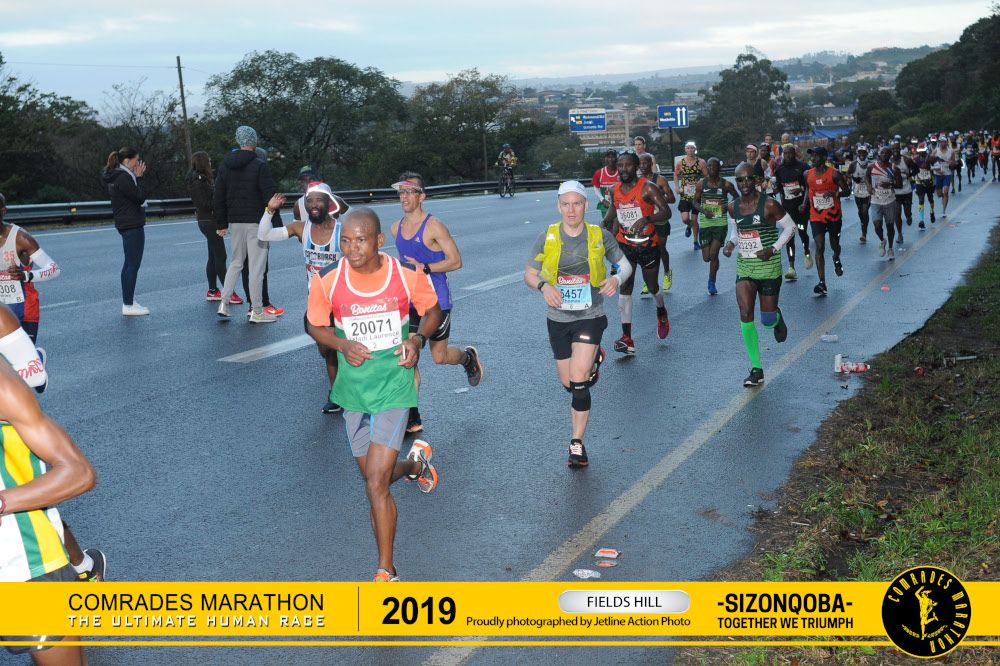 I arrived at the first Consports tent on Kloof Road (~26km) and was finished. I told Mike (from Consports) that there was no need to rush - Silver was off the cards. I asked him how feasible it was to walk to the end. He looked dismayed - I had gotten their fairly fast but I just felt straight up awful. I had what felt like a stitch but in my heart. I would have thought I was having a long drawn out heart attack had I not got the exact same pain on the right hand side too. He told me that it was possible but that it would be a long day. He told me that  I had to finish. He was stern.. as though I would be punished if I didn't finish. I started running.
I think in hindsight that statement saved my race. I genuinely think that if it had been easier to quit at that point then I would have done. I am fairly proud of my mental game and I have never not finished a race but on this day, at this point I was done.
KM 26 - 46
Comrades is a long race and you tend to be at the edge of your physical/mental limits. As such I will almost certainly get some of the timings wrong.
This period up to half way was an absolute slog. I had been running 'splits' of 10k using my watch. I felt that looking at my watch too often would be painful and wouldn't allow averaging out of the courses profile. The issue was that every 10k was painfully slow. Each KM marker was like a slap in the face because surely it had been more than a KM since the last marker. Apparently not. 10ks were taking ~1 hour. Each hour felt like 2.
You have a lot of time to be inside your own head and think. Realising that you have run for 3 hours and still have 5/6/7 hours to go is soul destroying. I had acknowledged that Silver was out of the window and was just wanting to finish. Sub 9 hours would be great but at this point I genuinely did not care. I just wanted to finish. I think I looked at my watch 3 more times during the race.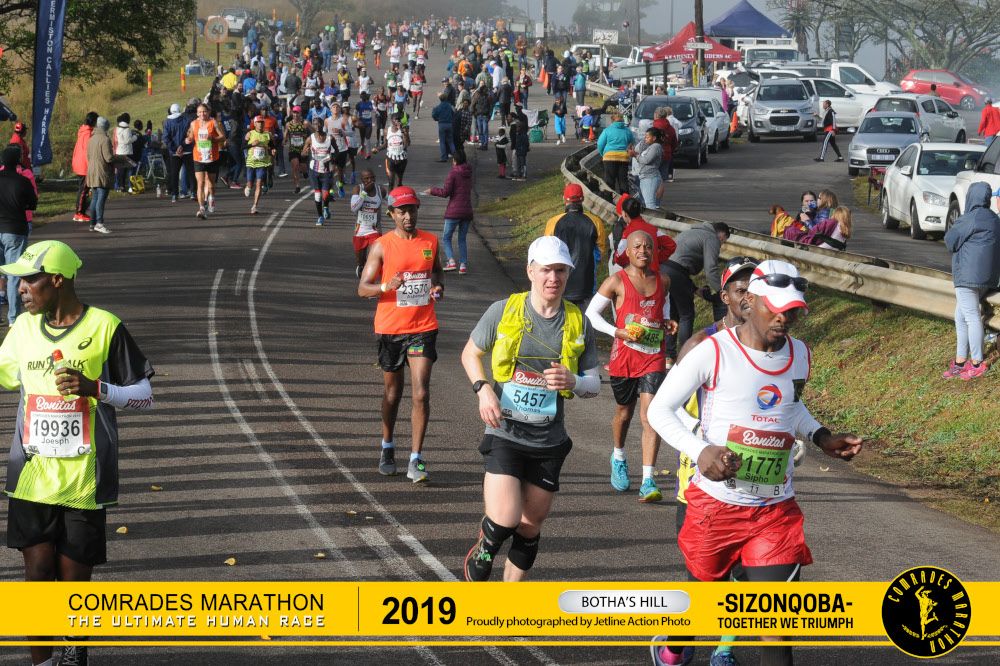 I was aware when I was running up Bothas Hill. I was not sure which part was Inchanga. They were both OK. OK meaning that in the context of Africas hardest marathon (the first half of Comrades) they were just as bad as the hills directly proceeding/following them.
I got to half way in 3 hours 50 minutes. This was a spanner in the works - I was still feasibly on Silver pace without realising it. Fortunately? It was not really that bad because there was no way I was going to run a 3 hour 40 minute second half.
I got to the second Consports tent (Inchanga – ~47km). It was getting hot now. I had packed sun cream in my bag so I stopped, poured out a huge blob and proceeded to splat it in my eyes and ears. I then spent a few minutes asking for tissues and wiping it off. That is how tired I was. It was probably the first time that I smiled :)
KM 46 - 70
I may as well take this opportunity to talk about gear/nutrition. I wore a Salmon vest (as shown in my flat lay photo) and carried my own water bottle containing Tailwind. I carried salt tablets and an 'emergency energy gel'. People had been pretty clear pre race that I needed to take on electrolytes/salts so I had trained with Tailwind and had a very clear plan of attack.
TIP: Don't wear a vest. Very few people did and there must be a reason why not. Whilst having my own nutrition on tap was great.. the trade off is not worth it (extra weight etc) given how well supported the race is.
I was drinking the Tailwind to feel, and taking the salt tabs every 4 miles or so (approx). This seemed well in line with the guidance but I was feeling even worse as the race progressed and I was insanely thirsty. At the third Consports stop (Umlaas Road – ~68km) I didn't take any of my preplanned nutrition and just asked them to fill up my bottle with cold water. I also proceeded to drink two pouches of water at every aid station - this was the best decision ever. The amount I enjoyed the water made it fairly apparent that I had taken on too many salts.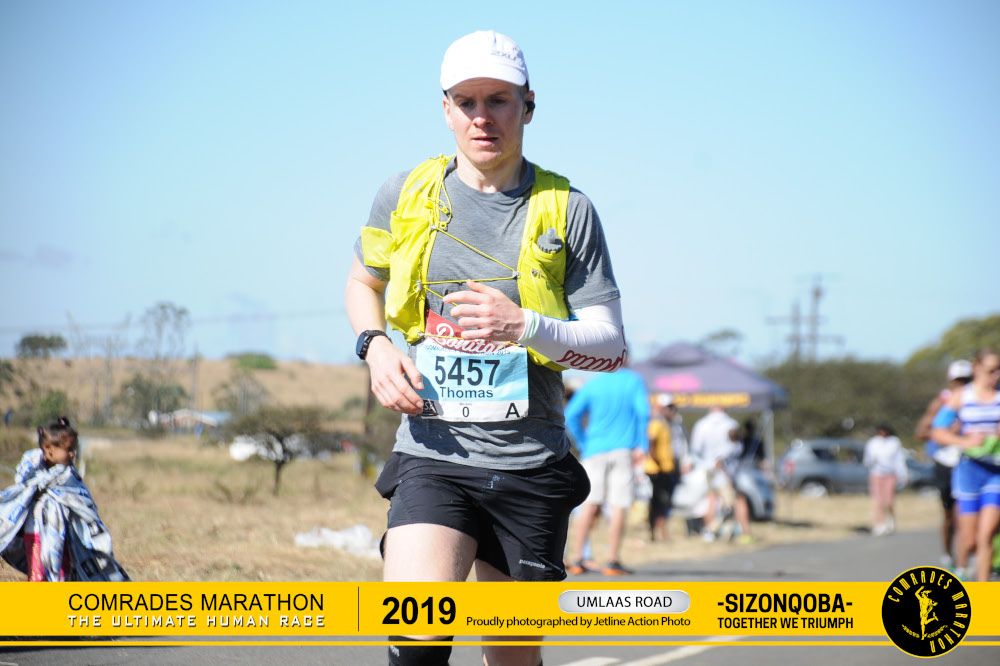 I was completely bemused that the amount of liquid I had consumed wasn't causing issues. I can only assume it was a 1 in 1 out policy in terms of sweat but.. I did drink an inconceivably large amount. On that note, during the whole race I did not go to the toilet once. My body was obviously trying to retain water but I am 100% sure that my 'internal issues' contributed.
I wouldn't recommend this but at this point I had gone off-piste with my nutrition as I needed to find a way through. Given this I figured there was no harm in going completely mental. I didn't have anything in the tank.
I follow Camille Herron on Instagram and know how much she loves potatoes. I had heard people talking about the salted potatoes on the course and my nutritional knowledge meant that I knew bananas to be Potassium/energy rich. I had used bananas to fuel numerous parkruns in training so figured why not.
This was a race changing decision. I suddenly had energy. When you get to half way and realise you still have a marathon to go dark thoughts pop up. All of a sudden finishing seemed possible
TIP: Eat salted potatoes and bananas.
WARNING: I think the salted potato people know that you want slated potatoes so they hold their boxes in a way such that you can't see what they have and they hide behind everyone else :S
KM 70 - 87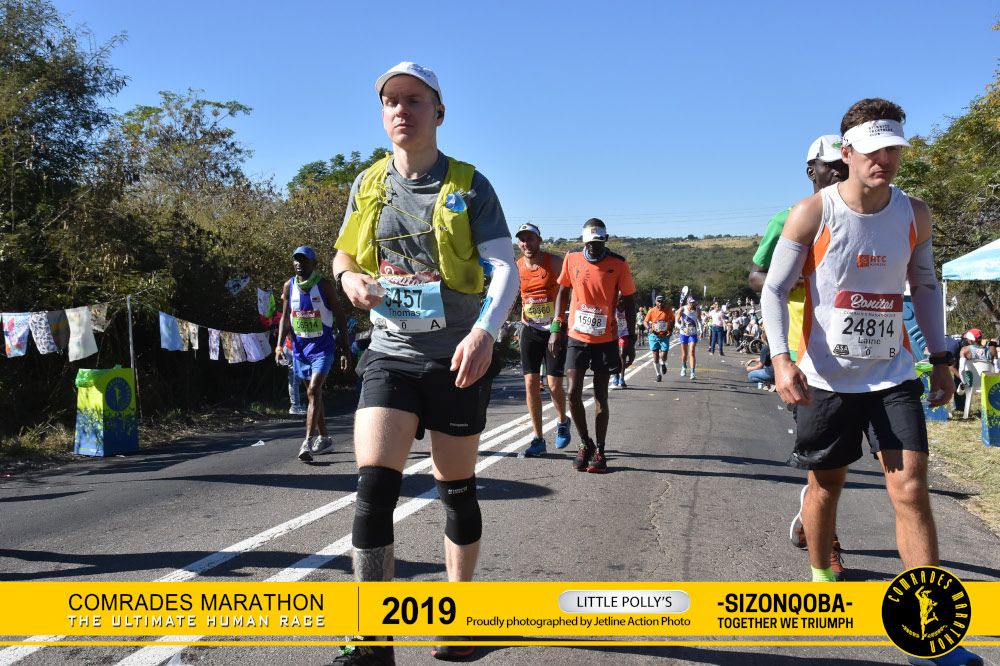 Little Pollys was the most 'obvious' hill on my run. It was big and it was hard and as I ran up it it hit me that this was almost certainly not even Polly Shorts (this is a common mistake that people make - I was aware of it in advance).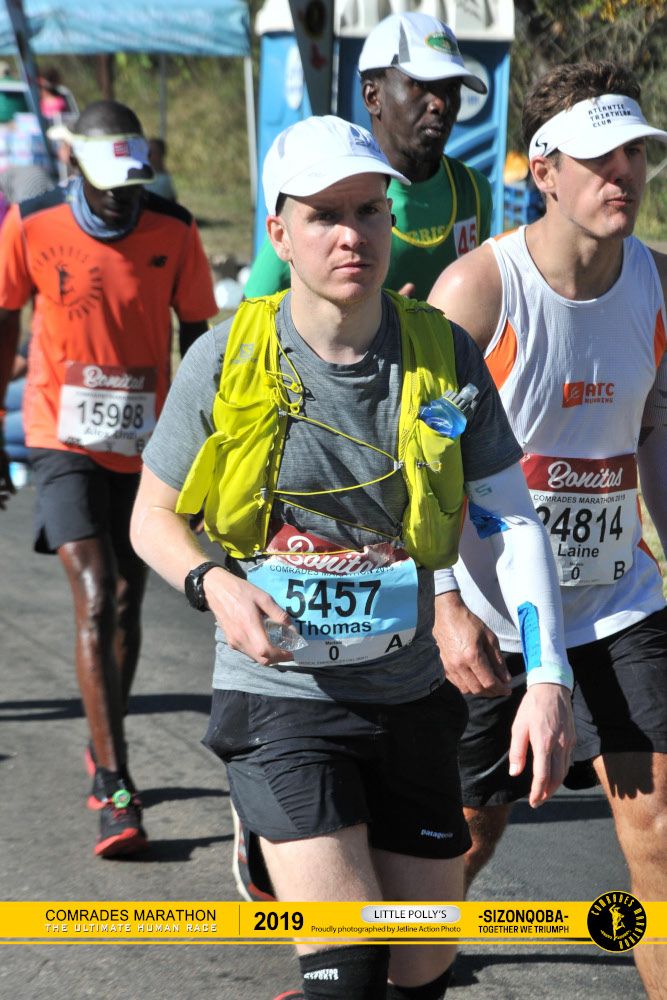 The position of these hills is what kills you. I went for a 'Run 60 counts, walk 30 counts' approach. I used counts because I seriously doubt that they were seconds. They were the units of time my mumbling mind was producing. This worked but had a cost. My salted potato/banana lease of life got me to the top of Polly Shorts but no further.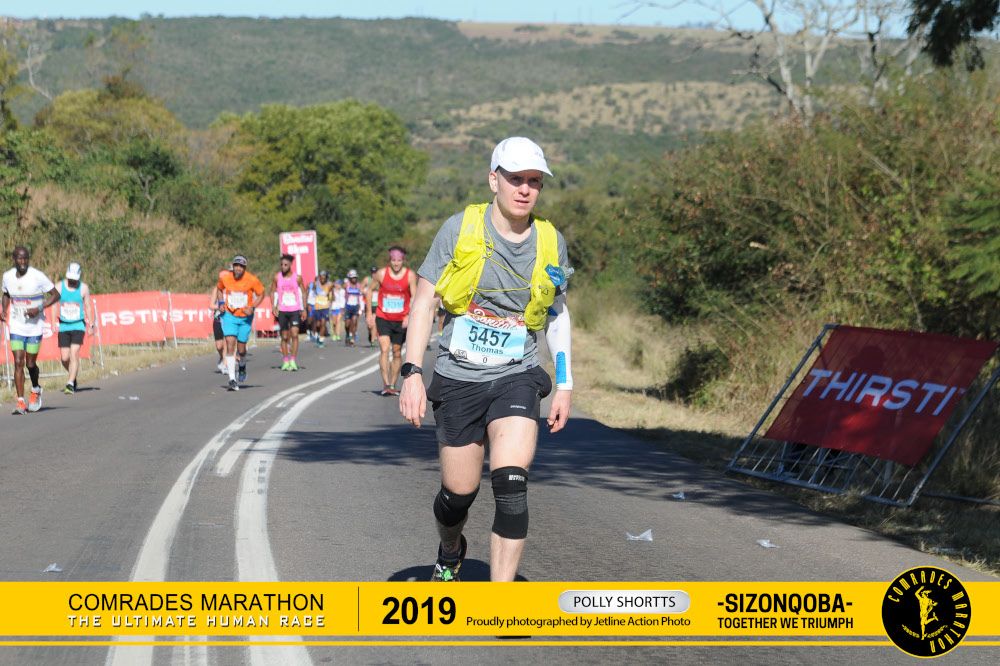 The final 10k was the longest of my my life. It seemed so close yet so far. The KM were going down even slower. I was rounding corners to see downhills and then having the shocking realisation that downhills were no longer 'better' - up, down, flat it was all the same - impossibly hard.
It dawned on me that I would do absolutely anything to finish this race. Failure was absolutely not an option. The length of the race means that you have ample time to 'think' (if you can call it that) how you will feel if you do not finish. I knew that it would irrecoverably devastate me and in hindsight I think I was reckless in the extent to which I would have non metaphorically run myself into the ground to finish.
I have a tendency in races to split them into 5ks or 10ks. At 5k to go I thought 'only a Parkrun to go' but it may as well have been a marathon - it was that hard. At this point I walked up any/all hills. Even at the 1km to go sign I walked. Supporters were shouting 'Keep going, only 1km to go' but it really didn't matter at that point. I walked for 10 counts and then ran to the finish.
TIP: Walking is your friend in this race regardless of how 'good' a runner you are.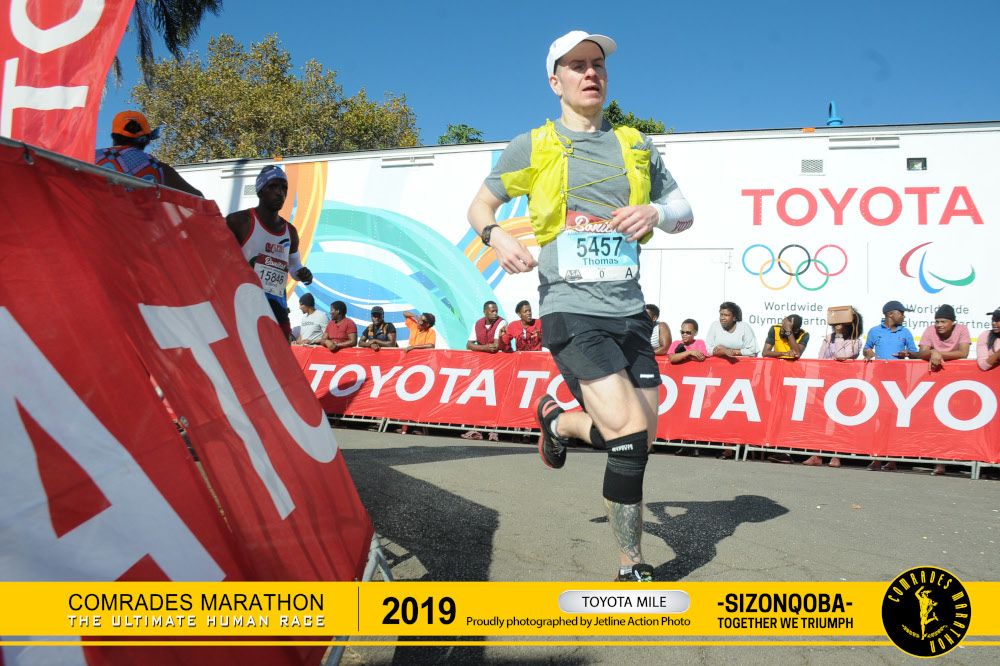 As I came into view of the finish line a lady next to me screamed in anger as the clock ticked over 8 hours 30 minutes. Even though it was not a medal cut off she obviously wanted to go under 8 hours and 30. I was the opposite - I did not care. When I told myself 'a marathon ago' that I just wanted to finish I had not been lying. In fact I was shocked - I thought I would surely have been slower.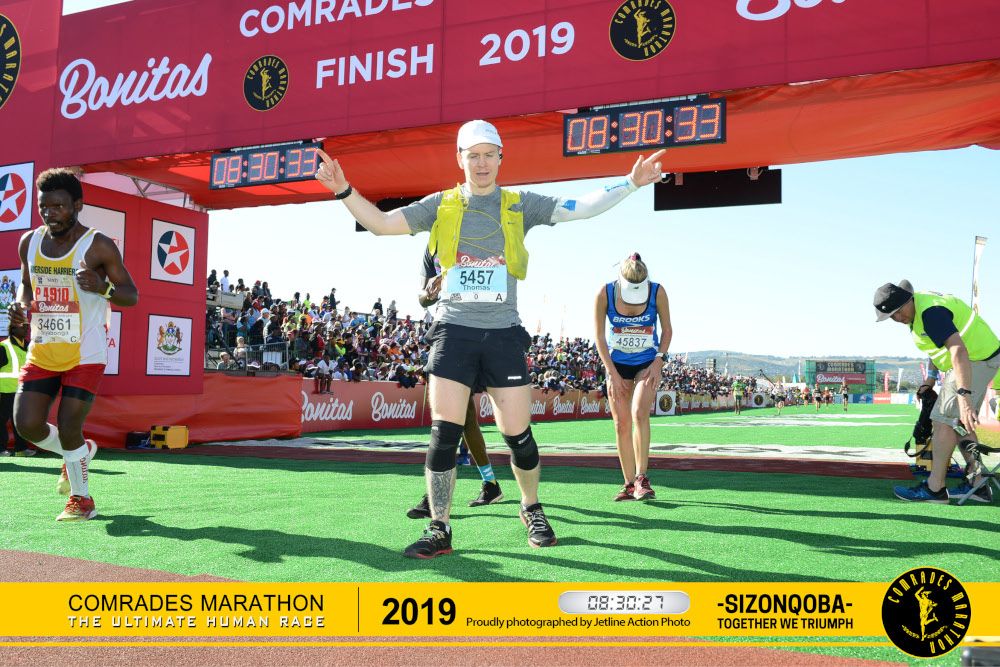 Post race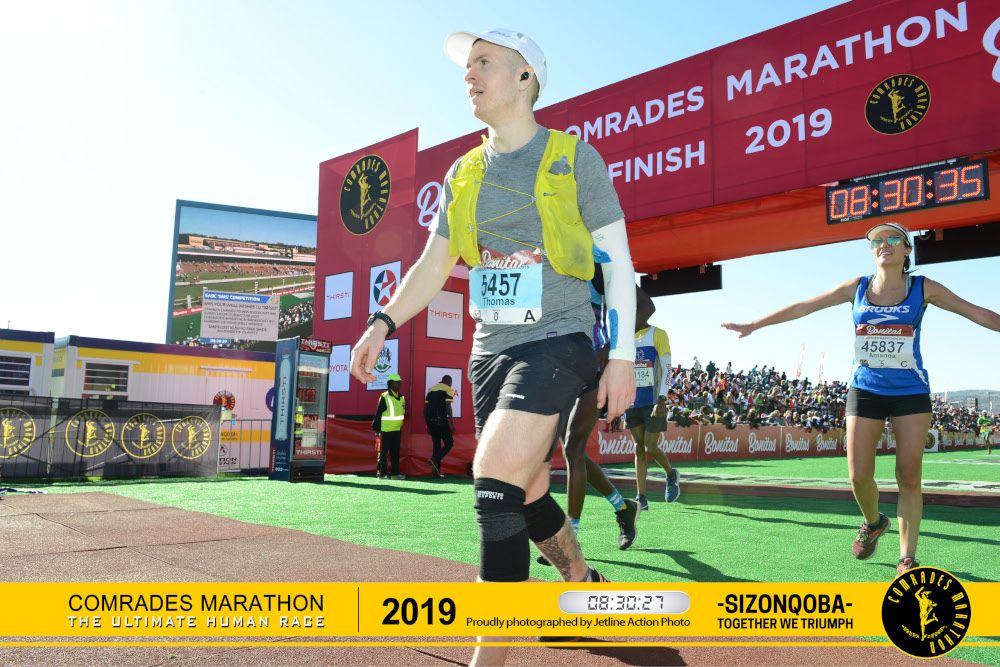 My most prominent issue at the end of the race was that my neck muscles were spasming. I was in a lot of pain. It might sound ridiculous but I genuinely believe that this was as a result of spending so long staring at the ground.
My main ailments from the race were two very sore feet and some impressive blisters. My muscles ached loads (as expected) and I struggled to climb stairs for 2 days. But yes, only 2 days. My body recovered remarkably and it still confuses me. It was a significantly quicker recovery than London.
8 days on, walking on the beach in Umhlanga wearing my Comrades hat a South African man walked past and stated 'Walking on the beach?! You should still be in bed. That race is insane'. It made me laugh.
I had not thought past the race and had not booked anything apart from my flights home 9 days later. Not even accommodation. I begun investigating..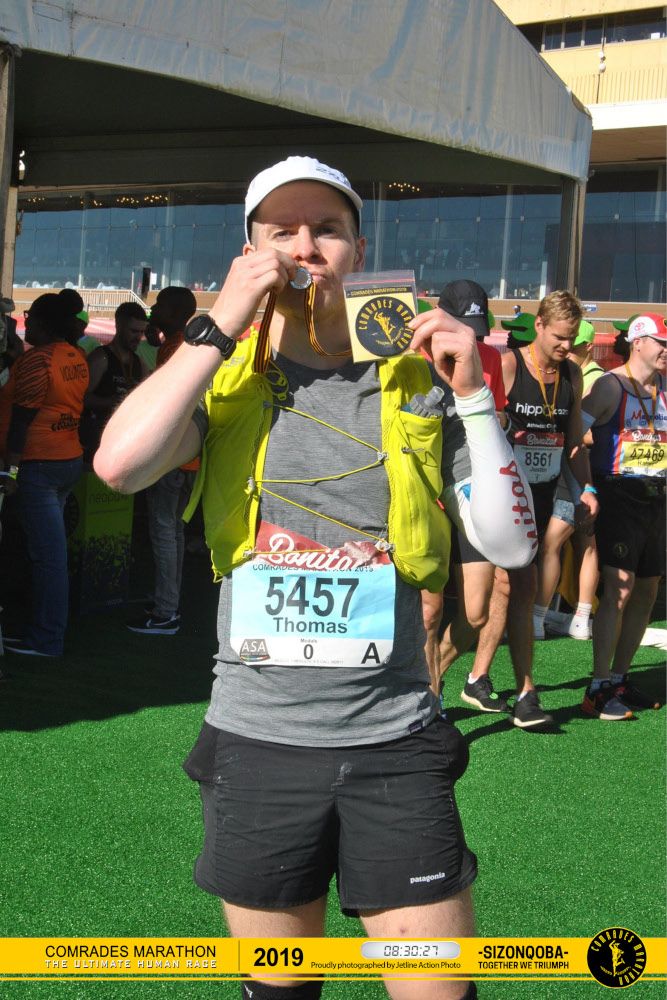 Things to do..
It had crossed my mind before I arrived that being in Africa I should do a safari. When it came to organising said safari things were a little bit harder.
There are so many tour operators in and around Durban. I am used to simply using Google Reviews or TripAdvisor to discern the best companies to work with. Unfortunately they are too easily gamed and you may well just end up with the company who has the biggest marketing budget.
After various recommendations I ended up going on safari with Trevor from Cybele Eco Tours. I also ended up staying at his Bed and Breakfast. Trevor and his partner Andrea were great. Not only were they hospitable, but their knowledge of the local area is insane. As well as taking me on a 3 day safari (see below), Trevor showed me around all the various suburbs, explained a lot of the history of the area, and gave me great restaurant recommendations. My interpretation of what he offers is essentially bespoke holidays tailor made for exactly what you want. Even if you don't want to go on safari I'd definitely recommend touching base with Trevor and Andrea.
He also took me to some of the Comrades 'destinations' for a better look. I genuinely did not see the Wall of Honour whilst running. It is kinda obvious.. right?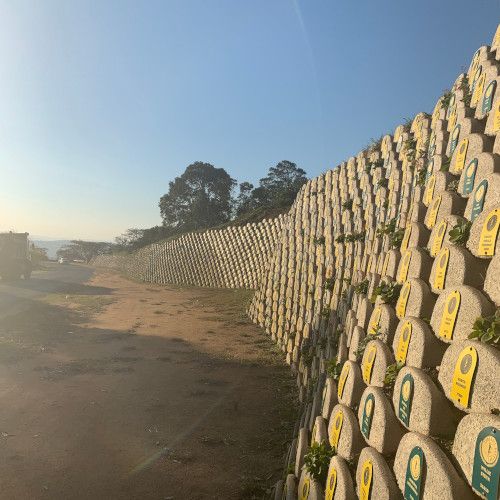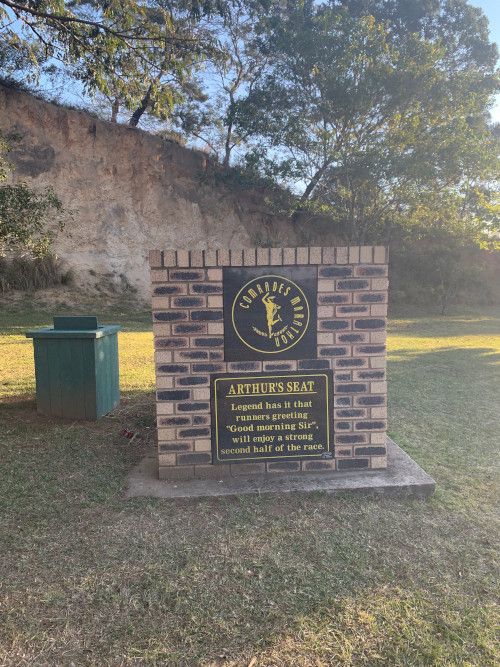 Anyhow.. the safari. I am going to try and keep this brief.
Day 1.
We drove up to Hluhluwe Imflozi game reserve. We got there around 2pm, and immediately transitioned into a game drive. The weather was cold and windy (this never happens in the area) and all the animals had seemingly disappeared into hiding. I got a poor view of some Zebra and Trevor somehow spotted some Elephant far in the distance. I was worried that it might be 3 days of this.
We then headed into Rhino Ridge (where one assumes you normally see Rhino). We saw no Rhino but stumbled upon 3 sets on Elephant. Trevor saw some Elephant crossing the valley and managed to discern where they would end up. He was correct. They were fairly skittish because they had babies with them but we got a great view.
They legged it across the road at which point we heard a lion growl. It was the closest we got to lion but cool to hear. We think the Elephant ran across the road into a slumbering lion.
We drove around for 3 more hours with little success.
Day 2.
I was concerned after the end of day 1 that I had made an expensive mistake. I had not. I should probably let the pictures do the talking.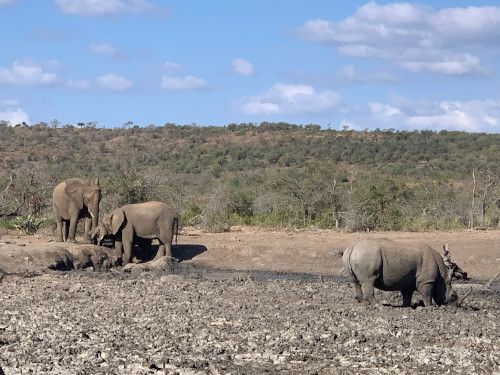 We saw numerous Elephant, Giraffe, Rhino, Zebra, Wildebeest, Pumba, Monkies, Buffalo etc. Sadly no Lion, Wild Dogs, or Cheetah but it seemed fairly apparent that a large part of safari is luck and persistence.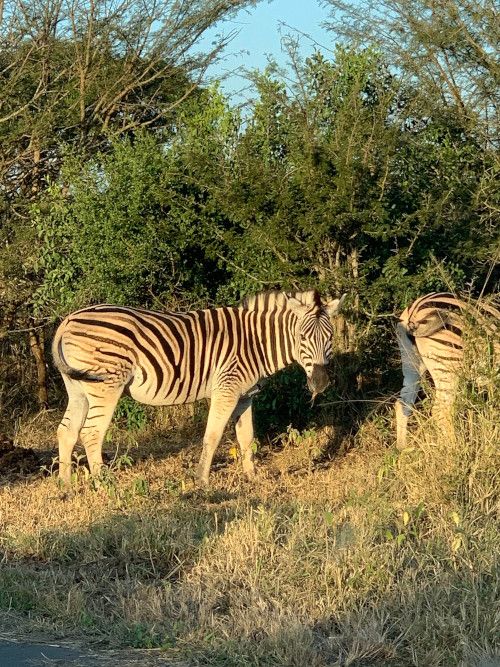 Over the course of the day we were on the road for about 10 hours. I don't know for certain but I think this was the big difference - Trevor seemed to love what he was doing and was happy to drive me around all day. I was on board. I assume the 'tour operators' just throw you on one of the parks 3 hour game drives.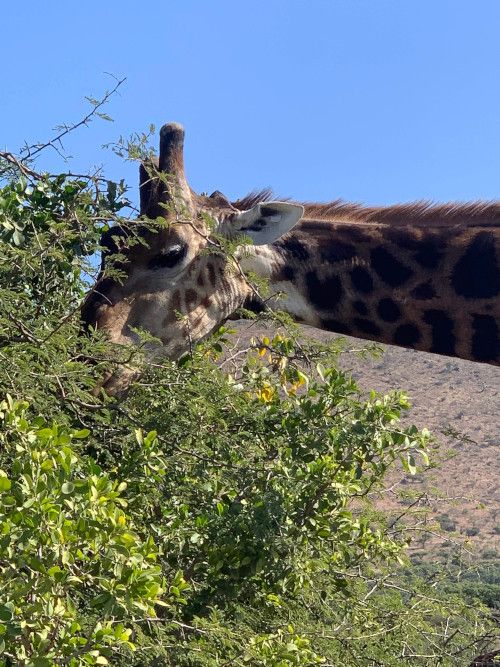 I don't know for certain that this is how they operate but I 'think' that the parks game drivers all communicate with each other and tell each other when/where they see things. This takes the fun out of it I think.
Day 3.
Another early start. I joined the parks organised 6am game walk. We got up close to two skittish, outcast, angry Elephant.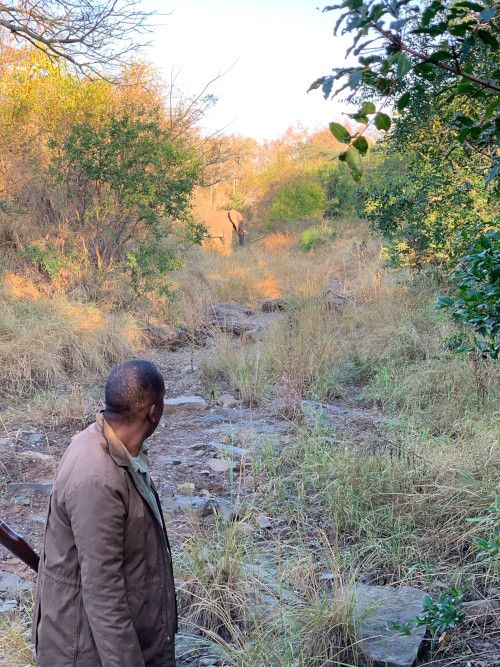 It was weird how terrifying this was - knowing that realistically if they charge you are going to have some serious problems.
The guide does carry a high powered rifle but:
They really never want to use them
I doubt it would do much
We then headed over to St Lucia through iSimangaliso wetland park. We saw even more giraffe, and zebra during our brief (45 minute) traversal of the park. This park is super impressive looking, and is of completely different profile to Hluhluwe Imflozi (which is hilly and has a lot of bush coverage).
At St Lucia we went on the Hippo boat cruise and saw loads of hippo and crocs. It actually got somewhat boring given how many hippo there were. I almost would have preferred it had there only been one or two that you had to search for.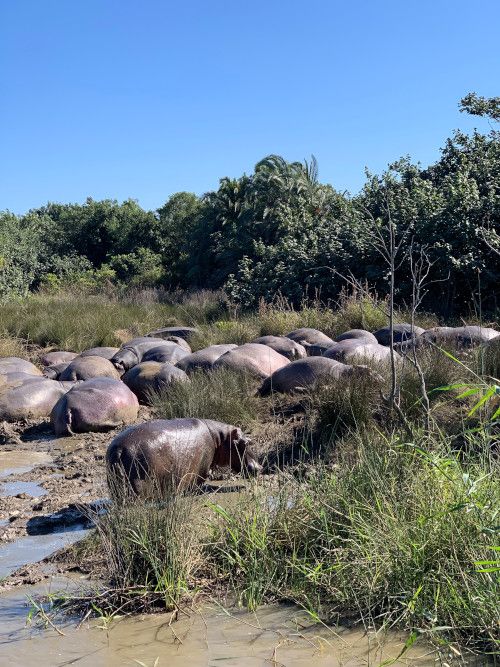 Then it was back to Durban.
I ended up in Umhlanga for my final 2 days and I was feeling inspired and artsy..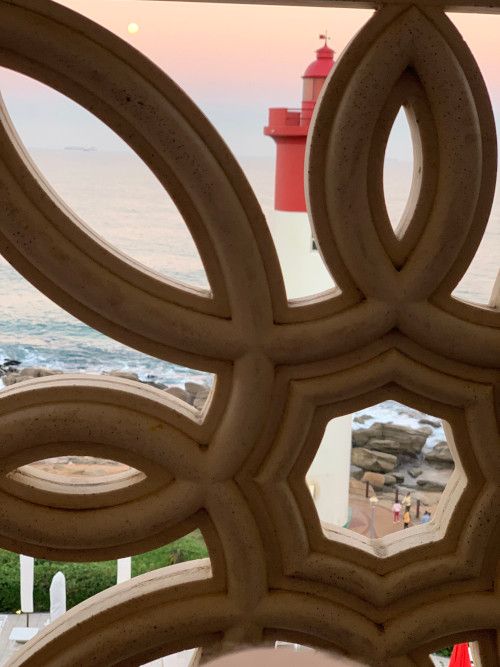 Other things to do
There are of course lots of other things one can do in/around Durban. Unfortunately I did not have time to do everything (again - just as well I am going back) but here are a few things that people recommended:
Final thoughts
Comrades is by far and away the greatest ultramarathon on the planet (in my opinion). The people, the place, the support.. It all contributes to an absolutely amazing experience.
The people are passionate, and the place is beautiful. Whoever you are and however 'good' a runner you are I think that this race is life changingly awesome.
On the course at numerous points South African runners came up behind me, tapped me on the shoulder and told me to keep on going. The camaraderie is out of this world and 100% played a part in getting me to the finish.
The dancing ladies telling shouting "You can do it" and the women who told me "You can only walk for 10 steps !" all pushed me past my mental and physical limits and helped me finish the toughest race on the planet.
This race humbled me. I highly recommend it.